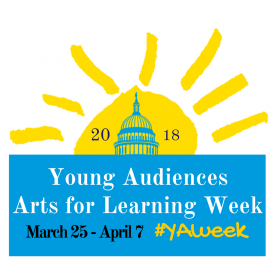 Young Audiences Arts for Learning Week (YA Week), YA's annual arts education advocacy and awareness campaign, will take place March 25 – April 7, 2018.
First championed in 1971 by conductor Leonard Bernstein, YA Week is a two-week celebration observed across the YA network to raise national and local awareness about arts-in-education initiatives through public programming, special events, and long-term residencies.
"The YA network is in a strategic position to advocate for all students by publicly advancing the value of using the arts to enhance academic achievement. YA Week focuses on showcasing and highlighting deep and demonstrable impact of the arts on education. We celebrate the work of the YA network and how it brings arts integrated learning to more than 5 million students across the country each year," said David A. Dik, National Executive Director of Young Audiences Arts for Learning.
A core value of YA is to provide young people with high quality arts-in-education programming, regardless of their zip code. The campaign will be observed nationwide by the entire network of 28 YA affiliates serving students in 22 states.
Here are some ways you can support arts education in the coming weeks and throughout the year: