As New Jersey businesses and nonprofits face unprecedented challenges brought on by the coronavirus pandemic, NJBIA is highlighting some of the unique and uplifting ways businesses are responding across the state. Share your good news story with us on social media at #NJBIAtogether or email us at communications@njbia.org.
Audible Teams with Newark Restaurants to Provide 100,000 Meals to Residents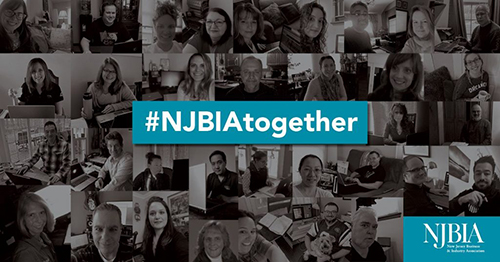 Newark-based Audible is donating $1 million to create Newark Working Kitchens, a free daily meal delivery service that will provide 100,000 meals to Newark residents who are struggling during the COVID-19 pandemic, the company announced recently.
"Our goal is simple: to keep our hometown community fed — and our fellow Newark business owners working," Audible said in a press release on its website. Audible will work in collaboration with José Andrés' World Central Kitchen, famed restaurateur Marcus Samuelsson, and others on the program.
Audible will seed the Newark Working Kitchens initiative with a $1 million commitment, providing 100,000 meals at $10 each (paid directly to participating restaurants). World Central Kitchen will provide logistical support and coordination with restaurants to prepare and deliver meals, track all meal distribution and the impact on local restaurants in terms of job creation and revenue.
The Marcus Samuelsson Group, which is working to enlist other restaurants in the effort, is using its Marcus B&P location as the initial production and distribution site. More than 2,000 meals were distributed already last week.
"As food first responders, World Central Kitchen mobilizes with the urgency of now to get fresh meals to those who need them most," Nate Mook, the CEO of World Central Kitchen, told NJ.com.
Insurers to Issue COVID-19 Credits to Auto Policyholders
At least a dozen auto insurance companies have announced they are giving credits to their auto policyholders because many people have been working remotely from their homes instead of driving to work during the COVID-19 public health emergency.
NJ.com's Karin Price Mueller reported that the companies are following the lead of Allstate, which had first announced a "Shelter in Place Payback" a week ago. Allstate said that will return $600 million in premiums to auto policyholders in the form of a 15% credit on April and May premiums.
Other major carriers that have announced similar programs since then include: Geico, Farmers, Liberty Mutual, NJM, AMICA, MetLife, Plymouth Rock, Progressive, State Farm, Travelers and USAA. The credit amounts vary by insurance company.  According to NJ.com, the discounts are:
AMICA – 20% credit on April and May premiums
Farmers & 21st Century Auto – 25% reduction on April auto premiums
Geico – 15% credit (averaging $150) on auto policies renewed between April 8 and Oct. 7
Liberty Mutual & Safeco – 15% refund on two months' auto premiums
MetLife – 15% credit for April and May auto premiums
NJM – 15% off three months' premiums
Plymouth Rock – 25% off liability and personal injury protection portions of premiums with a "pay it forward" option allowing policyholders to donate their refund to a nonprofit doing COVID-19 relief work.
Progressive – 20% off April and May auto premiums
State Farm – Approximately 25% off premiums covering March 30 to May 31 time period, but exact percentage will vary by state.
Travelers – 15% credit on April and May premiums
USAA – 20% credit on two months' premiums
Under a recent executive order by Gov. Phil Murphy designed to help people having difficulty paying premiums during the COVID-19 crisis, insurance companies must give policyholders a 90-day grace period on all homeowners insurance, renters insurance, auto insurance and life insurance payments.
Colleges Doing their Part in COVID-19 Response
Stockton University is providing temporary respite housing to medical professionals working at AtlantiCare Regional Medical Centers' (ARMC) Mainland and Atlantic City campuses, as well as the Bacharach Institute for Rehabilitation in Galloway.
"We are honored to be able to provide comfortable, convenient housing that gives these dedicated professionals a safe place to stay, and also protects their families at home," said Stockton University President Harvey Kesselman said in a statement on the university's website.
The medical workers are moving in this week to student housing on Chris Gaupp Drive, where there are 44 individual rooms with bathrooms and kitchenettes. If needed, another 128 beds would be made available in one of the apartment-type housing complexes on the main campus.
Stockton is not charging for the housing, but will be reimbursed for security, laundry and cleaning services.  The housing agreement runs through June 30, but could be extended through the rest of the summer if needed, the university said.
County College of Morris (CCM) has been serving as a COVID-19 Testing Center for Morris County since March 30 in coordination with county and local authorities and Atlantic Health System. The college also has donated five ventilators, 325 N95 masks and 3,000 gloves to Morristown Medical Center.
In addition, at the request of Atlantic Health Systems, the college's engineering lab coordinator is creating 15 face shields a day on the college's 3-D printers for healthcare workers. The shields are being created based on specifications provided by Atlantic Health.
Meanwhile, CCM graduates are working in healthcare facilities throughout the county and region as nurses, respiratory therapists and radiographers.
"County College of Morris is proud to support our healthcare providers," CCM President Anthony J. Iacono said in a press statement. "Many of these individuals are CCM alumni. For this reason, we often say that today's graduates are tomorrow's heroes."
The men and women who work in health care are literally putting their lives at risk to help others. We are extremely grateful to all of them and appreciate their service and devotion to helping those in need," said Anthony J. Iacono, CCM president.
With all classes now online at CCM and the college working remotely, several students and employees found they were lacking the technology to make the transition. To assist them, the college on Saturday, April 4, distributed nearly 40 laptops at a special distribution event staffed by several CCM employees. Also distributed at the event was other equipment students require to continue their classwork, such as art and photography supplies and pottery wheels and clay.
Further supporting students, the CCM Foundation has increased its focus on raising funds for the Titan Emergency Fund. That fund provides students with financial support to meet unexpected expenses, from car repairs, to food, housing, medical and other issues, so they can stay on track to graduate.