As New Jersey businesses face unprecedented challenges brought on by the coronavirus pandemic, NJBIA is highlighting some of the unique and uplifting ways business owners are responding across the state. Share your good news story with us on social media at #NJBIAtogether or email us at communications@njbia.org.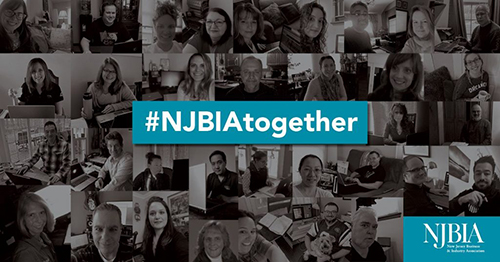 Horizon Donates $2.35 Million in Masks, Face Shields for COVID-19 Response 
Businesses and nonprofits across New Jersey are doing their part to help hospitals that are on the front lines battling coronavirus. Horizon Blue Cross Blue Shield of New Jersey had donated $2.3 million in emergency medical supplies, including 500,000 N95 masks and 81,000 face shields, to Gov. Phil Murphy's coordinated response effort to protect healthcare professionals treating COVID-19 patients. 
The first shipment of these critical supplies is expected to be delivered to the State for distribution next week, with additional deliveries planned throughout April, Horizon BCBS said in an announcement on Thursday.
"The heroes working the front lines in New Jersey hospitals put their own health at risk to care for New Jerseyans diagnosed with COVID-19, but they cannot do that without adequate personal protection equipment," said Allen Karp, Horizon BCBSNJ's Executive Vice President for Healthcare Management and Transformation. "Horizon has always worked to give New Jersey's hospitals and doctors the tools they need to deliver the best care for our members, whether that be advanced data to help them make better decisions or this essential equipment needed to protect them while they work."
The company said it would also be donating $100,000 to the Community Food Bank of New Jersey and $60,000 to the Jewish Family Service of Atlantic and Cape May, two organizations helping families in financial distress because of the coronavirus pandemic.
Precision Textiles Donates Mattress Covers to Englewood Hospital
Precision Textiles, of Totowa, is donating medical-grade hospital bed mattress covers to Englewood Hospital in Bergen County, which has among the state's highest number of COVID-19 patients.
CEO Scott Tesser told New Jersey Network News reporter Heather Fordam the covers are a "level-4 product" that pathogens cannot penetrate in order to keep mattresses free from contamination between patients.
"We had some stock of product and we're happy to donate it to Englewood Hospital," Tesser said in the New Jersey Network News interview.
BAPS Charities Donates More than 5,000 Masks to Hospitals
The charity arm of BAPS Shri Swaminarayan Mandir, a spiritual and volunteer-driven Hindu organization in Robbinsville, has distributed 5,000 N95 masks to hospitals across the state.
According to a story by Samantha Sciarrotta, of the Robbinsville Advance, hospitals that received the much needed donations included Deborah Heart and Lung Center in Browns Mills, Robert Wood Johnson University Hospitals in Hamilton and New Brunswick, Capital Health Hospitals, and Penn Medicine at Princeton Medical Center. BAPS Charities has an ongoing construction partnership with the BAPS Mandir in Robbinsville, where artisans and volunteers have been using N95 industrial respirator masks to protect themselves from dust and other particles during construction. The donated masks were those they had on hand for the project.
BAPS Charities has also organized and implemented several online COVID-19 awareness campaigns, including webcasts on preventative measures and steps to contain the spread of the virus.
"The presentations have been conducted in English and Gujarati," BAPS volunteer Dash Patel told the Robbinsville Advance. "Many of the elderly population in the BAPS community primarily use the Gujarati language, so we ensured that we made them aware through a format they understand."