As New Jersey businesses face unprecedented challenges brought on by the coronavirus pandemic, NJBIA is highlighting some of the unique and uplifting ways businesses and their communities are responding across the state. Share your good news story with us on social media at #NJBIAtogether or email us at communications@njbia.org.
---
AT&T Donates $100K to Provide Meals for Medical Workers, First Responders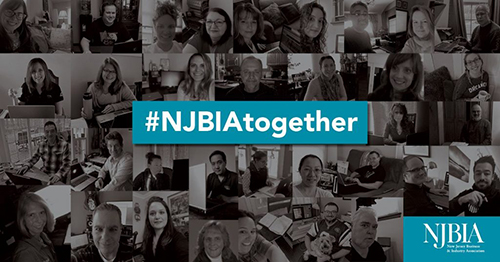 As a way to thank medical and emergency personnel – and to support local restaurants in the Garden State  – AT&T and the New Jersey Restaurant and Hospitality Association (NJRHA) teamed up to provide meals to personnel working in field hospitals set up at the Meadowlands Exposition Center in Secaucus and the New Jersey Convention and Exposition Center in Edison.
The AT&T Foundation granted $100,000 to the NJRHA to support the initiative, according to a company news release posted on InsiderNJ.
"Having AT&T step up and assist restaurants in the Edison and Secaucus area so that they can feed our first responders at the field hospitals is absolutely amazing," said NJRHA President Marilou Halvorsen.
"This allows restaurants to do what they do best: feed the community while giving them the financial resources to do so," she said. "This also has the added benefit of helping to keep some of our restaurant employees working."
The United Way of Essex and West Hudson's Community COVID-19 Fund received an additional $50,000, including $35,000 from AT&T and $15,000 from the AT&T Foundation, to provide food and basic needs to impacted residents in Newark.
"One of AT&T's core values is to be there when people need us," said Charlene Brown, president, AT&T New Jersey. "We're glad that we could team up with NJRHA and the United Way to help our neighbors during this time of extraordinary need."
Brown said the New Jersey contributions are part of a nationwide commitment by AT&T to provide much needed support for first responders, medical personnel and others impacted by COVID-19. The effort kicked off with a $1.5 million contribution to World Central Kitchen, which operates in Newark.  AT&T is also supporting Feeding America, the Salvation Army and Team Rubicon.
New Jersey Natural Gas Donates $125K to Food Pantries
New Jersey Natural Gas is donating $100,000 to Fulfill's restaurant partnership program, a donation that will help feed the needy during the coronavirus and support local businesses.
In addition to the $100,000 donation to Fulfill, formerly the FoodBank of Monmouth and Ocean Counties, New Jersey Natural Gas is also donating $25,000 to the Interfaith Food Pantry in Morris Plains, which will be used primarily to stock emergency food supplies, the company said in a news release.
"At a time when food banks are dealing with enormous demand and local businesses are being particularly hard hit from the slowdown, Fulfill's Restaurant Partnership Program is filling an important gap: delivering targeted relief to distressed local businesses, while getting meals to those most in need," Steven Westhoven, president and chief executive officer of New Jersey Natural Gas, said in a statement.
Brother International Corporation Helps Accelerate COVID-19 Mask Production
Bridgewater-based Brother International Corporation recently announced the donation of up to 100 industrial sewing machines to support the efforts of apparel companies to gear up their manufacturing of Personal Protective Equipment (PPE).
The first donations were made to Los Angeles Apparel, Beverly Knits, Inc. and SanMar, all part of a coalition of iconic American apparel brands and textile companies responding to the urgent call from the White House to fast track the manufacturing of face masks in the fight against COVID-19.
Separate from the coalition, Brother will also be donating industrial sewing machines to Brooks Brothers to support its PPE manufacturing efforts, the company stated in a news release.
"Brother remains committed to aiding our communities during these challenging times," said Don Cummins, president, Brother International Corporation USA. "Given the severe and growing shortage of personal protective equipment, Brother is proud to donate our products to support these stalwart manufacturers with their efforts in making masks for our frontline workers."
Real Estate Development Company Launches Online 'Get a Mask' Store
 A Red Bank real estate development company has launched an online store where people can order face masks for their families or donate much needed personal protective equipment to medical workers and front-line responders.
Trinity Dominion LLC opened its GetAMask.store on April 16 and is currently accepting orders for PPE, such as disposable protective masks and KN95 filtering face-piece respirators.
"We have started this initiative by utilizing our contacts overseas to import much-needed PPE supplies directly to our community, while also giving back to our local partners and front-line workers," said Rimvis Mati, CEO of Trinity Dominion.
Mati said the store's "purchase to donate" option is a way for the community to show its appreciation to medical workers and first-responders. Trinity Dominion will facilitate all logistics and deliver donated PPE directly to those on the front lines. For every five units that people purchase to donate, Trinity Dominion will add one more.
GetAMask.store ships only to the following states: Connecticut, Delaware, Massachusetts, Maryland, New Jersey, New York, Pennsylvania and Vermont. Orders over $50 ship free and typically within 3-5 business days. For questions regarding PPE, GetAMask.store customer service representatives are available Monday through Friday from 9 a.m. to 6 p.m. and Saturday to Sunday from 10 a.m. to 4 p.m. by calling 848-206-6398 or emailing sales@GetAMask.store.
Schools, Communities Work Together to Produce Masks for First Responders
Community volunteers are working with the Union Fire Company and Rescue Squad in Hopewell Township to use 3-D printers to produce thousands of face shields needed by medical workers and front line responders in central New Jersey.
NJ.com's Patrick Lanni reports that the idea for the project came from volunteer firefighter Michael Sullivan, a technology teacher at Hopewell Valley Central High School whose students would typically use the 3-D printers for classroom lessons or a club called SPIKE, which stands for Students Participating in Killer Engineering.
The dozen LulzBot TAZ 3D printers being used for the face-shield project were purchased for district schools with a donation from Hopewell Valley Education Foundation.  A Facebook post by the Union Fire Company on Tuesday reports that 1,776 shields have been produced so far and lists more than a two dozen organizations that have received these masks in central New Jersey, including hospitals, police departments, fire departments, and assisted living facilities.
For those who want to bolster the effort, Union Fire and the Hopewell Valley Education Foundation are accepting donations. Follow this link for the fire department and this one for the HVEF.
To view an NJ.com video about the face-shield project, go here.