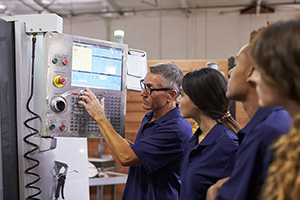 Nothing beats hands-on learning, especially when it comes to vocational-technical education. In New Jersey, businesses have been stepping up to provide students with the real-world experience that will make them valuable members of the workforce in the near future.
The NJ Council on County Vocational-Technical Schools (NJCCVTS) is honoring a handful of these businesses as its Business Partners of the Year.
The honorees include one of the world's largest asset management companies, a renowned hospital, a utility company, a farm, local business owners and two graduates who believe in giving back to the schools that launched their careers.
"All successful career and technical education programs have one thing in common: Partnerships with employers large and small and the active involvement of business and industry professionals," said Scott Moffitt, the president of the NJCCVTS and the superintendent of the Morris County Vocational School District.
"Businesses need to develop a technically trained workforce for the future. Students need to see real pathways for success in their chosen fields," Moffitt said. "Addressing both needs together in a committed process requires significant effort, and the business partners we honor this year demonstrate that."
Thousands of companies and individuals volunteer their time as county vocational-technical school business partners in districts throughout the state. They serve on program advisory committees, help keep curricula up to date, serve as mentors and guest lecturers, sponsor scholarships, donate equipment and supplies, offer internships and real-world learning experiences, and often hire students upon graduation.