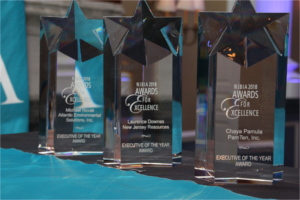 NJBIA today announced the 19 winners of its annual Awards for Excellence competition, which honors member companies and business leaders whose energy and vision have had a positive impact on their employees, their communities and the state's economy.
"Our member companies do a tremendous amount of good for their employees, their communities, and New Jersey's economy," NJBIA President & CEO Michele Siekerka, Esq. said. "The NJBIA Awards for Excellence event is our way of recognizing the very best of the best for their achievements."
Winners in seven categories will receive awards from NJBIA and New Jersey Business magazine tonight during a reception at the Bridgewater Marriott. The award categories are: Executive of the Year; Member of the Year; Outstanding Employer; Community Service; Vanguard; Nonprofit of the Year; and Nonprofit Executive of the Year.
The winners are listed by category below.
Executive of the Year
Awarded to five executives representing companies of all sizes who have demonstrated leadership and passion in achieving business success.
Gary DuBoff, CEO of Arrow Fasteners, Saddle River. DuBoff has led his company of 300 employees through a decade of seismic economic, market, and industry-based changes. Today, Arrow is the only company that still manufactures heavy-duty staples and stapling tools in the United States. When the U.S. government imposed tariffs on banded steel wire from China — which was the only place in the world Arrow could buy this raw material for making staples — DuBoff became a vocal and visible leader on the impact that tariffs were having on New Jersey manufacturing. He eventually won a tariff exclusion from the federal government, saving over 100 jobs at his plant.
Robert C. Garrett, CEO of Hackensack Meridian Health. Garrett is in charge of New Jersey's largest not-for-profit, integrated healthcare organization — one with 17 hospitals; 35,000 employees; 7,000-plus physicians; and over 500 patient-care locations from Bergen to Atlantic counties. Under his leadership, Hackensack Meridian Health has forged partnerships to advance medical education, pioneer new cancer and behavioral health treatments, and support innovation. This includes opening a new medical school at Seton Hall University; forming a strategic partnership with Memorial Sloan Kettering; merging with Carrier Clinic; and partnering with the New Jersey Innovation Institute to launch an incubator for healthcare advances to help companies develop new medical products and services.
Carl Gould, president of 7 Stage Advisors, Riverdale. Gould is an entrepreneur, CEO, international speaker, and best-selling author. His third multi-million dollar company, 7 Stage Advisors, is a business coaching, mentoring, performance training and growth advisory company that has helped launch over 5,000 new businesses. His clients have become some of the fastest-growing companies in New Jersey and around the world. Carl has also donated over 1,000 coaching hours to those in need, including the homeless, military personnel, students and emerging entrepreneurs.
Michael Munoz, Market President, AmeriHealth New Jersey, Cranbury. Munoz took charge of AmeriHealth New Jersey in 2017 at a crucial point in the company's history and helped restore it to profitability. He has revised the company's product portfolio, implemented operational improvements, and re-established trust with customers and brokers. He has also worked hard to improve the company culture and employee engagement. In 2019, AmeriHealth New Jersey jumped 26 places to No. 11 on the Best Places to Work list of medium-sized companies in the state.
Leonardo Ponzio, EVP and CAO, Maser Consulting P.A., Red Bank. As executive vice president and chief administrative officer, Ponzio's formula for success has been investing in technology and people to produce phenomenal national growth for his company. A prescient decision to invest in mobile LiDAR geospatial survey equipment, at a time when other firms weren't, allowed Maser to expand rapidly from coast to coast. The firm now has 900 professional engineers, planners, surveyors, landscape architects and environmental scientists across the U.S. and has more than doubled its survey revenue.
NJBIA Member of the Year
Awarded to three companies for contributions to NJBIA and for improving the state's business climate.
All-Ways Advertising, Bloomfield. Established 50 years ago as a home delivery service providing advertising circulars and samples, All-Ways Advertising has expanded through business acquisitions and exceptional customer service to become a full-service promotional advertising and marketing agency with its own 38,000-square-foot fulfillment center. Senior Account Executive Camille DiLorenzo serves as an NJBIA ambassador and valuable resource to new members. Learn more in this short NJBIA video.
Berkeley College, Woodland Park. A long-standing NJBIA member, Berkeley College serves on NJBIA's Education and Workforce Development Policy Committee, and its faculty and career experts participate in various leadership panels and workforce development forums. The college, a career-focused institution accredited by the Middle States Commission on Higher Education, has 5,700 students who are enrolled at six locations and online in industry-valued certificate programs, or programs to earn an associate, a bachelor's, or master's degree. Learn more in this NJBIA video.
Connell Foley, LLP, Roseland. An NJBIA member since 1949, Connell Foley's lawyers are nationally recognized experts who frequently serve at NJBIA events as moderators and panelists. They have helped guide NJBIA business owners through complex new state laws impacting the minimum wage, unpaid family leave, paid sick leave, employment contracts, changes to federal overtime rules, cybersecurity, medical marijuana legalization, and more. Learn more in this NJBIA video.
Outstanding Employer
Awarded to three companies celebrating creative and forward-looking approaches to managing HR. Learn more about all the outstanding employer winners in this short NJBIA video.
Medtronic, Eatontown. Medtronic is a global leader in both the processing of human bone and connective tissue for transplantation, and as an innovator in manufacturing biologic device systems for surgery. It is also an outstanding employer for buoying the mind and spirit of its workforce by fostering engagement, inclusion, innovation, and employee recognition.
M&E Engineers, Somerville. M&E Engineers has been making buildings safe, healthy and efficient for more than 30 years, and that same dedication extends to its employees. M&E pays 100% of its employees' health insurance premiums, and has also implemented programs and policies to improve the overall mental and physical well-being of its workforce, including flex hours, telecommuting options, and more.
Preferred Behavioral Health Group, Brick. This nonprofit has established itself as an invaluable resource for people with behavioral health challenges in Monmouth and Ocean counties. PBHG also takes great pride in the comprehensive initiatives it provides for its 400-plus staff, including robust internships for undergraduate and graduate students and its employee recognition programs.
Community Service
Awarded to four companies committed to finding solutions to social or economic challenges. Learn more about the four winners in this short NJBIA video.
American Asphalt Company, Collingswood Heights. One of the leading asphalt manufacturing companies in South Jersey, American Asphalt is also a paving contractor and parking lot maintenance provider. It reuses 100% of the old pavement removed from local roads, keeping this waste product out of landfills and turning it into recycled products. It also gives back to the communities it serves with a wide range of philanthropic endeavors involving Ronald McDonald House, the Camden County Women's Center, South Jersey Food Bank, Volunteers of America projects, and many more.
CompoSecure, LLC, Somerset. This company, which designs and manufacturers premium metal bank cards and other high-security documents, has donated more than 1,500 volunteer hours, 200 pounds of food and clothing, and raised more than $80,000 for local charities so far in 2019. CompoSecure proudly supports Roots and Wings, an organization that helps young adults aging out of foster care; The ARC of Somerset County, which serves people with intellectual and developmental disabilities; and The Center for Great Expectations, which serves men, women and children who are poor or homeless.
Covanta, Morristown. This world leader in providing sustainable waste management and energy solutions has a long history of engaging with local communities to make sure "no waste is wasted." It recently worked with the Camden County School District to provide training and needed tools to recycle 1,000 pounds of mixed recyclable. The company's RX4Safety program, launched in 2010, has enabled Covanta facilities across the United States to destroy more than 5 million pounds of medications that are no longer needed.
ZAGO Manufacturing, Newark. This family-owned business makes sealing products ­– sealing screws, sealing nuts, switch boots and crystal switch seals – for military contractors as well as aerospace, electronics, construction, medical, marine, motor vehicle and consumer product manufacturers. ZAGO launched its community outreach program, "ZAGO Sustainability 360," in conjunction with Newark Tech to promote STEM education and manufacturing to students of all abilities and economic backgrounds.
Vanguard
An award that celebrates innovative and effectual new projects or products. To learn more about the winner of this award, watch this short NJBIA video.
DCO Energy & Montclair State University. A $90 million private-public venture between DCO Energy, of Mays Landing, and MSU enabled the university to replace its 1950s era energy plant with a 5.4 MW combined heat chilling power production facility that generates electricity, heating, hot water and air conditioning more effectively for the campus' 25 buildings. A microgrid was recently added that expanded system's power-generating capacity, allowing MSU to operate independently from local utilities and export up to 3MW of power to the grid. This enables the university to serve as a potential "island of energy" if a natural disaster affects power in neighboring towns.
Nonprofit of the Year
Awarded to two nonprofits and one nonprofit executive for demonstrating impactful achievement to provide greater opportunity and improved quality of life. To learn more about the winners, watch this short NJBIA video.
Court Appointed Special Advocates of New Jersey (CASA), New Brunswick. CASA NJ is galvanized by 2,000 volunteers who work tireless on behalf of more than 4,000 New Jersey children placed in foster care because they have been abused or neglected by their families. Volunteers visit the children, advocate for them at school and in the community, and become a constant in their lives.
SERV Behavioral Health System, Ewing. This private, not-for-profit behavioral healthcare organization provides housing and supportive services for 1,800 children and adults struggling with mental illness, addictions or developmental disabilities. SERV offers a wide variety of residential, clinical care, vocational training, education, crisis intervention, and outpatient services.
Nonprofit Executive of the Year
Les Vail, president & CEO, Gloucester County Chamber of Commerce. Drawing on his 30 years' experience volunteering, Vail has been successful in fostering education, encouraging workforce development and promoting South Jersey as a business hub. Vail oversaw the GCCC's inception 18 years ago and has more recently created a GCCC foundation that provides scholarships to local high school students who wish to attend college in New Jersey, as well as micro–loans for small businesses to help them utilize workforce training opportunities.