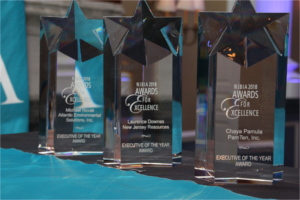 The New Jersey Business & Industry Association congratulates the 13 winners of its annual Awards for Excellence competition, which recognizes outstanding businesses that have helped improve the business climate and quality of life in New Jersey.
"The Awards for Excellence allow NJBIA to honor dynamic companies whose energy and vision make New Jersey a better place," said NJBIA President & CEO Michele Siekerka. "We congratulate these companies on their outstanding achievements."
Awards were presented to 13 executives and businesses at a reception Oct. 24  at The Palace at Somerset Park in Somerset. The award winners were honored in five different categories: Executives of the Year, NJBIA Members of the Year, Community Service, Outstanding Employers, and Environmental Quality.
The 13 award winners are listed below according to categories. Click on each name to view a short NJBIA video about that winner.
Executive of the Year Awards
These awards are presented to executives who have demonstrated exemplary leadership and passion while achieving business success.
NJBIA Member of the Year Awards
These awards are presented to a small, medium and large employer for their contributions to NJBIA and commitment to improve the state's business climate.
Outstanding Employer Awards
These awards will be presented to companies that have demonstrated creative and forward-looking approaches to managing human resources.
Community Service Awards
These awards are presented to companies in recognition of committed leadership in finding solutions to pressing social or economic challenges.
Environmental Quality Award
This award recognizes outstanding work to preserve and enhance the environment.