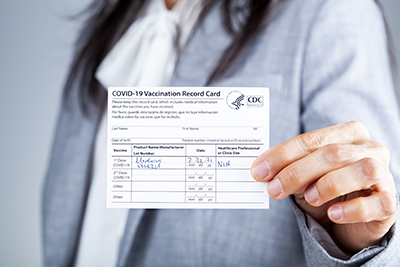 On Wednesday, Gov. Phil Murphy released  Executive Order 243, which eliminates the requirement for mask-wearing and social distancing in indoor offices for fully vaccinated employees. 
With that, employers are now wondering how they will go about asking employees for proof of their vaccination status. 
According to NJBIA's HR Support Experts, employers who do want to take advantage of the relaxing of state requirements under EO 243 must require proof of full vaccination from employees before permitting them to be unmasked in the office. 
Employers, however, should be careful not to ask for more information than is necessary.  The request for proof should only include an employee's name and date of vaccinations.  
Employers should also avoid any follow–up questions to ensure they are not making a "medical inquiry," which would be against Americans with Disabilities Act (ADA). 
Employees who are not vaccinated because of legitimate religious beliefs or disability, are protected by Title VII of the Civil Rights Act and employers are required to make reasonable accommodations. 
Whatever the means of collection used for vaccination records, employers must maintain full confidentiality and limit the use of the information to legitimate business reasons. Employees should be assured that the records will be kept confidential and not used in employment decisions.  
Importantly, creating a policy is key to ensuring employers are protecting themselves and their employees. As this environment is rapidly changing, employers must be aware of rules at the local, state and federal level so those policies should be flexible.  
To learn more, visit NJBIA HR Resource Center.   
---
To bring maximum benefit to its members, NJBIA has launched a comprehensive HR Support Center platform that provides employers with a host of time-saving tools and resources, the most up-to-date HR information, and live professional consultations seven days a week.  
NJBIA's HR Support Center is included in NJBIA membership dues, while access to Support Center PLUS, with HR On-Demand services seven days a week, can be accessed for a nominal fee of $300 a year.  
HR Support Center benefits include:  
Policy library & law alerts  
HR forms, documents and templates  
Employee handbook builder  
Resources covering common employer laws including ACA, FLSA, and FMLA  
Extensive COVID-19 content  
HR webinars lead by HR professionals to drive lead generation for you  
Monthly HR newsletters and eAlerts from NJBIA  
HR fitness test to assess HR compliance gaps 
Guides on popular HR topics  
Members who upgrade to the HR On-Demand feature receive:  
Unlimited live advice via chat, telephone or email  
Question and answer history  
HR Concierge Live Chat  
Custom multi-state employee handbooks and consultation  
Custom project requests  
COVID-19 live help  
Employers, both NJBIA members and non-NJBIA members, can learn more about NJBIA's HR Support Center at www.njbia.org/mac or by calling 1-800-499-4419.  
For a video about NJBIA's HR Support Center, click here.