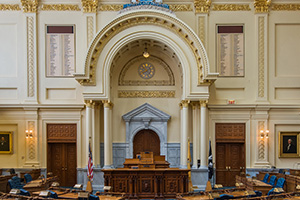 The New Jersey Business & Industry Association said legislation, (S-1612), passed by the Senate today that would mandate staffing ratios for certified nurse assistants at nursing homes is impractical because there is currently a shortage of qualified CNAs.
"Under this bill, approximately 3,000 additional certified nurse assistants would need to be hired in order to meet new nursing home staffing ratio requirements, even though there is a shortage of qualified CNAs right now to fill currently open positions," NJBIA Chief Government Affairs Officer Chrissy Buteas said.
"There are other ways to attract and retain a qualified workforce of CNAs that do not require artificial, restrictive staffing ratios that fail to take into account the level of experience of the caregivers already working at nursing homes," Buteas said.
Buteas said a better way to boost CNA staffing ratios and fill open positions would be to allow certification reciprocity so that individuals with out-of-state CNA certifications do not have to pay to take a New Jersey training program and exam in order to work in nursing homes here.
NJBIA's Post-Secondary Education Task Force report has also recommended enhanced promotion of the job-training opportunities available at New Jersey's community colleges and vocation-technical schools, as well as the creation of new internship programs, job-training opportunities, and apprenticeship programs. These types of  training programs could also help address the CNA shortage, Buteas said.
"NJBIA recognizes that our nursing home and hospital members consistently strive to provide the highest level and quality of care to the patients and residents entrusted to their care," Buteas. "However, this legislation would significantly increase overall nursing home costs, at a time when healthcare expenses continue to be a top concern for all NJBIA members."