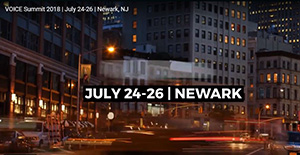 The New Jersey Business & Industry Association is partnering with VOICE Summit sponsored by Amazon Alexa and now the nation's largest multi-day conference for the world's top platform providers, brands, agencies, investors, startups and developers to explore the cutting edge of the voice-first era and how voice-activated artificial intelligence is revolutionizing the way we interact with devices, services, and consumer products.
VOICE Summit, set for July 24-26 at the New Jersey Institute of Technology in Newark, will explore the voice-first ecosystem across healthcare, education, marketing, government, fintech, transportation, smart home and security. The Diamond sponsor is Amazon Alexa and Platinum Partners include Yext, Audible, Prudential and Panasonic.
"VOICE is an exciting event that will bring together the leaders of the rising voice technology ecosystem in one place to exchange ideas and network," said NJBIA President & CEO Michele N. Siekerka, Esq. "NJBIA is proud to partner with industry leaders like Amazon Alexa on VOICE as part of our ongoing support for initiatives aimed at building strong tech-based innovation ecosystems that create jobs and economic opportunity."
The three-day VOICE Summit will include workshops that provide hands-on developer training, voice-design interface sessions, keynotes from industry leaders, networking, VIP events, exhibits and more. The Summit is a unique opportunity for consumers, businesses and investors to learn where the voice tech industry is going from the world's top platform providers, brands and agencies.
"We are excited to partner with NJBIA on this groundbreaking gathering of the preeminent voice technology leaders and brands," said Pete Erickson, founder of Modev and VOICE Summit. "We are also thrilled to be hosting in New Jersey. Newark bested major cities like New York and Los Angeles in the RFP process for the Summit location and New Jersey businesses are well represented among our thought leaders. We encourage NJBIA members to join us as we discuss best practices, industry challenges and the future of multi-modal engagement."
Over 200 talks, panels and hands-on sessions will give attendees the knowledge needed to accelerate their career, startup or major company initiative.
For more information, or to register to attend, go to www.voicesummit.ai. NJBIA members can use discount code NJBIA20 for a 20 percent discount on three-day access pass valued at $395.
Accredited members of the media interested in covering this event, are encouraged to pre-register at https://www.voicesummit.ai/press-registration.
About VOICE Summit
VOICE is a three-day summit at the forefront of natural language processing, Sponsored by Amazon Alexa and hosted by Modev. The Summit will be held at the New Jersey Institute of Technology (NJIT) on July 24-26, and serve as a gathering place for more than 1500 developers, designers, C-level executives, leading brands and agencies who are re-imagining how we interact with technology through voice. The program will consist of keynotes, breakout sessions, workshops and demos.