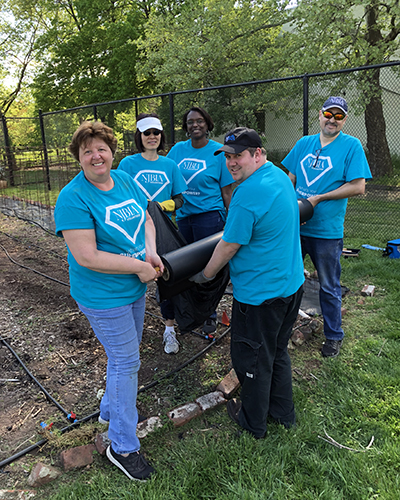 Thirteen volunteers from the New Jersey Business & Industry Association recently spent two afternoons planting vegetables at one of the urban gardens supported by Isles Inc., a Trenton nonprofit that helps build healthy, self-reliant families and sustainable communities.
The NJBIA team weeded, set up tomato cages and planted rows of seedlings at the site on Tucker Street, one of 70 urban gardens throughout the city that Isles supports to provide city residents access to low-cost nutritional foods and the opportunity to learn agricultural skills.
"NJBIA's heart is in its community, and there's no better way to demonstrate this than by volunteering our time and talent to help Isles with all of the great work they do," said NJBIA President & CEO Michele N. Siekerka, Esq.
Isles was founded in 1981 and runs a wide range of services that build pathways to self-reliance. In addition to the urban agricultural program, Isles works alongside residents to revitalize neighborhoods by developing energy-efficient and healthy homes, parks and other shared facilities.
Isles also trains adults and youth through an alternative high school, vocational center, and support services and helps families build financial assets with programs that help restore credit and increase savings.
For more information about Isles, go to the organization's website at www.isles.org.