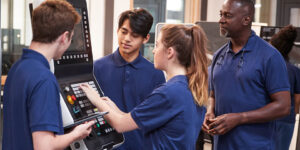 PLAINSBORO – The New Jersey Department of Labor and Workforce Development (DOL) welcomed four apprentices to the Princeton Plasma Physics Lab (PPPL) on Sept. 3, as the total number of New Jersey apprenticeships surpassed 8,000, a new high for the Murphy administration.
The milestone is part of a concerted effort by the Murphy administration and DOL Commissioner Robert Asaro-Angelo to dramatically increase New Jersey's use of apprenticeships to fill a chronic skilled labor gap. NJBIA supports the programs as a way to help businesses struggling to find job candidates who have the skills they need.
The PPPL apprentices entered into a four-year on-the-job training program with a signing ceremony witnessed by Labor Commissioner Robert Asaro-Angelo; U.S. Department of Energy Under Secretary for Science Paul Dabbar; CEO of the NJ Economic Development Authority Tim Sullivan; PPPL Director Steven Cowley; Assemblyman Andrew Zwicker (D-16), who heads PPPL's Office of Communications and Public Outreach; and others from PPPL and Princeton University.
A tour of the lab – a world-class center for fusion energy research that is part of the Department of Energy – followed.
The apprentices will train as mechanical and electrical technicians and attend classes at Mercer County Vocational Technical Schools. While their specific jobs will be determined at the end of the program, they will be part of a team seeking to develop fusion energy as a clean, limitless, and safe method of generating electricity.
"A stronger and fairer economy starts with developing career pathways for employees and a strong talent pool for employers," said Governor Murphy. "The growth of apprenticeships is a testament to our unwavering commitment to continue investing in our people, which will strengthen our workforce and economy over the long-term."
"Because of the commitment of PPPL to apprenticeship, these new apprentices will be mentored in careers that are rewarding, cutting-edge, and vital to our country's future energy needs," said Asaro-Angelo. "In my mind, there is almost no industry sector that cannot benefit from an apprenticeship program, and today's ceremony at a high-tech research lab proves the point."
"Apprenticeship programs offer participants hands-on experience that prepares them for real-world career opportunities," said Sullivan. "Governor Murphy's increased focus in this area is helping to ensure the state's talent pool keeps pace with the demands of the high-growth sectors targeted by his plan for a stronger and fairer New Jersey economy."
The apprentices will be the first to take part in PPPL's high-tech fusion energy apprenticeship program. The apprentices are: Robert Bongiovanni of Hamilton,
Aaron Floyd of Lawrenceville, Kevin Purdy of Allentown, NJ, and Sheehan Twomey of Princeton. Most attended vocational school or have some technological experience. One has a bachelor's degree in business, another has an associate's degree in liberal arts.
At PPPL, they will receive competitive pay and benefits, 8,000 hours of on-the-job training, and related classroom instruction. They will be eligible for full-time employment after completing the program.
These apprentices will join the ranks of 8,021 registered apprentices currently active in New Jersey, an 18 percent increase since Governor Murphy took office. There are currently 855 Registered Apprenticeship programs in the state, a 39 percent increase since January 2018, which further demonstrates the far-reaching capabilities of apprenticeship to train the state's future workforce to meet businesses' needs.