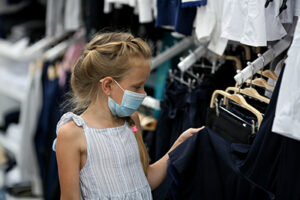 Although retail spending registered a modest increase in July, economists say the August numbers may take a hit if parents decide to have their children continue with virtual classes in the fall.
According to Retail Dive, the back-to-school shopping season, which is an important period for retailers and a precursor to holiday sales, may be in jeopardy. Overall, sales may be down, even if electronics stores sell more devices that students may need to learn from home.
During July, sectors tracked by Retail Dive enjoyed 11% growth year over year, despite the pandemic's surge in areas of the U.S. that forced some stores to reclose. Robert Frick, corporate economist at Navy Federal Credit Union, told Retail Dive much of the credit for that modest increase goes to the federal government for propping up the consumer at a time of increased unemployment.
However, Jaime Ward, head of retail finance at Citizens Bank, told Retail Dive that because that federal pandemic relief assistance has not been renewed, it may not bode well for retailers for the rest of 2020.
"Back-to-school shopping may be taking a hit now as many school districts consider delayed openings or a continuation of virtual classes in the fall," Ward told Retail Dive.