Beyond 10 West Lafayette Street Column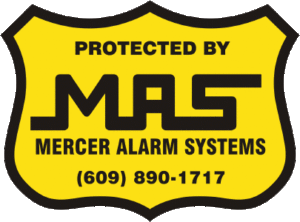 Have you ever been a victim of burglary?  Stats about home break-ins are quite startling.  According to US statistics from the FBI:
A burglary occurs every 15 seconds.
65 percent of home burglaries happen between 6:00 am and 6:00 pm when most people are at work.
34 percent of burglars enter a residence through the front door.
The master bedroom is the first room targeted.
The average loss from a burglary is $2,230.
Luckily, there are companies like Hamilton-based Mercer Alarm Systems, which are there to help businesses and residences avoid being a victim of a crime, as well save lives and property damage from fire.  The company, founded by Paul and Sue Midura, serves Mercer County and the vicinity with distinction.  They offer a wide array of alarm and video surveillance systems for whatever the needs of their customers and are experts at installation.
They've been in business for more than 26 years, which is about the same period they've been an NJBIA member. A business can't exist for more than a quarter of a century without having a reputation for outstanding customer service as well as professional acumen, and that's certainly the case here.
Their professionalism extends far beyond just being a licensed NJ burglar and fire alarm company. They participate in their industry's professional associations, which include being an active member of the New Jersey Burglar and Fire Alarm Association (NJBFAA), as well as having technicians certified by the National Institute for Certification in Engineering Technologies (NICET).
Because of their knowledge, professionalism and technical expertise they can deliver what one ultimately wants in a home security system: "peace of mind."
In closing, beyond installing an alarm and video surveillance system, here are a few tips to help prevent residential burglary:
Avoid mentioning travel plans online.
Use deadbolt locks.
Own a dog. Burglars are less likely to target a home with a dog.
Have a home safe.
Maintain a well lit property.
Monitor mail and newspaper delivery.
Use a paper shredder.
Secure sliding doors.
Use timing devices.
Participate in Neighborhood Watch.
Congratulations to Mercer Alarm Systems for their long-term success. For more information about them visit their website at www.merceralarmsystems.com.
Mercer Alarm Systems is just one of 20,000 companies that comprise NJBIA's membership, which is very diverse with representation from an amazingly large and wide spectrum of fields, industries and professions. Look for more unique stories about NJBIA members in future issues of "Beyond 10 West Lafayette," NJBIA's membership blog.