Setting priorities in a prioritized time isn't always easy.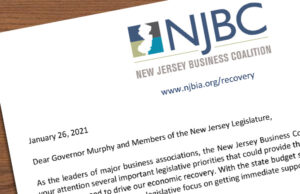 But nearly 100 leading business and nonprofit groups, including NJBIA, signed onto a letter sent to Gov. Phil Murphy and the Legislature this week identifying what needs to be done to help New Jersey small businesses after a historically devastating year. 
Beyond the bills supported by the New Jersey Business Coalition in the letter was an urgent message: No more tax increases or mandates. 
"The reason why these priorities are important is because our business community desperately needs relief and support not only for themselves, but to help drive New Jersey's economic recovery," said Chrissy Buteas, NJBIA's Chief Government Affairs Officer. 
"We feel this is a comprehensive list of important relief bills, as well as some recommendations where we can fix some gaps in current legislation. Working toward these solutions can really help small businesses in the state when they need it most." 
The letter details how there were 31.4% fewer small businesses at the end of 2020 than when the year started, with revenue decreasing 35.8% in that span. 
It reads: "While these statistics cannot fully capture the pain felt by those who have lost their businesses and livelihoods, this data underscores the necessity of a concentrated legislative effort to provide financial relief to businesses so they can reopen, stay open, and drive economic growth. Businesses simply cannot wait." 
The NJBC received some good news on Thursday as three of the following bills on the list cleared the Senate: 
A-4910 (Burzichelli/Johnson/Danielsen)/S-3093 (Gopal/Sweeney) – Directs county-based reopening plans. 
S-3234 (Singleton/Bucco)/A-5149 (Greenwald) – Directs that forgiven PPP loans are not taxable and can be expensed. 
S-3305 (Smith/Oroho) – Allows for income tax credit for nonresidential improvements to reduce spread of COVID-19. 
To see the full NJBC legislative priority letter, click here.