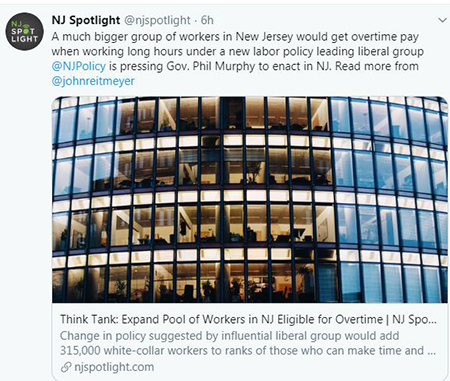 NJBIA has raised concerns that a proposal to expand overtime rules to include New Jersey white-collar workers earning up to $78,000 a year will hurt businesses already impacted by new minimum wage laws and could ultimately backfire by resulting in employees losing overtime opportunities.
A liberal think tank released the proposal on Thursday, which the Murphy administration said it would review, that calls for setting a new overtime threshold at 2.5 times the state minimum wage. The state's minimum wage is currently $10 an hour and will increase annually to $15 an hour on Jan. 1, 2024.
"Raising the overtime requirement salary threshold and expanding the pool of employees eligible for overtime, in addition to the new minimum wage law in New Jersey, will lead to employers providing less overtime to their workers," said Michael Wallace, NJBIA's vice president of government affairs.
"It will also add to the already high cost of doing business and make New Jersey less competitive to attract and retain businesses," Wallace said.
Should the proposed overtime rule be enacted, by 2024 New Jersey workers who earn up to $78,000 a year, would be eligible for time and a half overtime pay for any hours worked beyond a 40-hour workweek. Currently, white-collar workers who earn more than $23,000 are exempt from overtime, a threshold that will rise to $35,568 on Jan. 1 under a recent change authorized by the Trump administration.
NJ Spotlight has more on this story here.