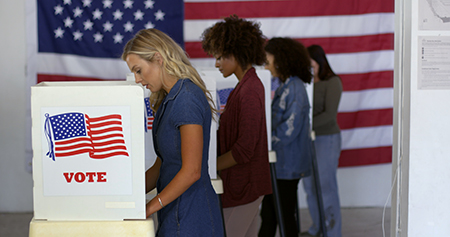 "Ready to Run," a series of nonpartisan campaign training programs committed to electing more women to public office, kicked off in New Jersey on Thursday as an online virtual series that runs through March 12. 
The annual training program was created by Rutgers' Center for American Women and Politics (CAWP) in 1978 and to date has trained over 4,000 women to run for office, seek appointed positions and run political campaigns. Interest from other states led to the creation of the Ready to Run National Network allowing state partners to adjust CAWP's model to fit their own state. 
The first session, Diversity Initiatives, was held online Jan. 21 and kicks off with the "Run Sister Run" roundtable. Panelists provided insights and advice on important topics for current and future public officials including the use of technology, practical tips for staying informed on policy issues, personal finances, image and presentation, and dealing with sexism. 
NJBIA is a sponsor of the Women of Power 2021 host committee, which supports CAWP's public leadership programs for women, such as the "Ready to Run" series. For more information on upcoming programs, or to register, go here.