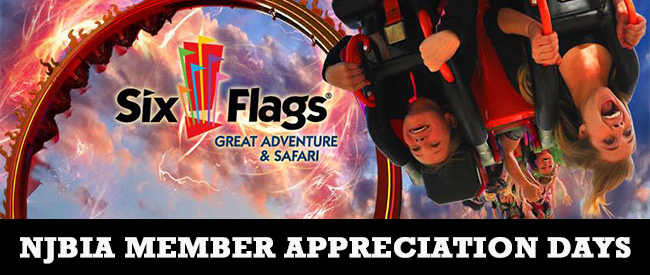 EVERY WEEKEND IN SEPTEMBER! (September 2-3, 9-10, 16-17, 23-24 and 30)
Theme Park Admission Including Tax: $40.59 per person (normally $82.28)
Daily Parking Pass Including Tax: $15 (normally $26.75)

Promo Code: NJBIA17
Enter promotional code NJBIA17 into the ENTER PROMO CODE box at the top-right corner of the page.
If you are purchasing just tickets, follow the instructions and be sure to print your tickets and take them with you to the park.
If you are purchasing parking and tickets proceed as follows:

Order your tickets first by selecting the quantity, which will then appear in MY CART. Then click on the PROMO CODE tab that is located on the far right.
Type in NJBIA17 again and you will be led back to the original ordering screen.
Select daily parking pass and add to MY CART.
Click secure checkout and follow the instructions to pay. Be sure to print and bring tickets and parking pass with you to the park.
For Questions or Accommodation Requests Please Contact Rosemary Wilson-Maratta at 732-685-6573.