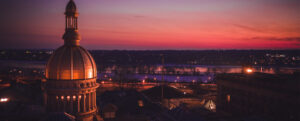 True to their word, legislative leaders passed a state budget without a millionaires tax, sending the $38.8 billion spending plan to Gov. Phil Murphy, who has been demanding an increase in the income tax for what he calls "tax fairness."
The Senate's budget adds to the budget surplus and increases spending over what the Murphy administration requested, but has no broad based tax increases. The Assembly is expected to vote on it later today. Gov. Phil Murphy wants the state's highest tax rate (10.75%) to apply to income over $1 million, instead of $5 million under current law.
NJBIA applauded the budget's passage, saying New Jerseyans are already taxed out.
"New Jersey desperately needs fiscal reform, not more taxes," said NJBIA President and CEO Michele Siekerka.
"The wealthiest 1.5% of our residents are already paying 40% of the state's annual gross income tax revenue," she said. "We should not be giving those residents any more reason to consider leaving our great state…"
What remains to be seen is what Murphy will do. The governor has vowed to line-item veto spending items the Legislature added in. He could also veto the bill outright. Though it seems unlikely at this point, the state could endure another government shutdown if a budget is not signed into law by July 1.