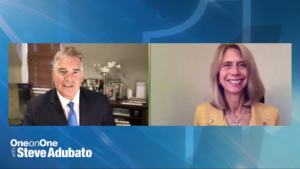 NJBIA President & CEO Michele Siekerka will discuss the phenomenal growth of NJBIA's Women Business Leaders Forum during a "Women in Leadership" special on the next "One on One with Steve Adubato," airing Thursday, Nov. 19. 
The program also features Jessica Gonzalez, founder & CEO of InCharged, Lux Disinfect, and Vend X; and Michellene Davis, executive vice president & chief corporate affairs officer, RWJBarnabas Health. Gonzalez discusses the importance of women in business, and Davis talks about how COVID-19 has changed women's leadership in the workplace. 
The half-hour special airs at 6 a.m. on Thursday, Nov. 19 on WHYY-Y2 and at 7 p.m. on NJTV. It will also be broadcast at 12:30 a.m. on WNET.  
Following the first broadcast, the program can also be viewed at SteveAdubato.org, Adubato's YouTube channel, NJTVonline.org, Thirteen.org, the Thirteen Explore app and the NJTV app.