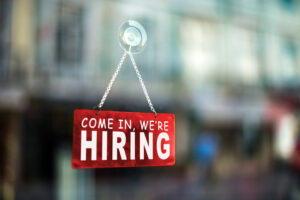 Undeterred by the shrinking supply of skilled workers, more than half of small businesses plan to hire in 2019, primarily for sales and marketing positions, according to a recent survey by B2B consultant Clutch.
It's yet another sign that the national economy is still growing steadily and that businesses are optimistic about the future.
"Small businesses are benefiting from a strong economy and are boosting their employee rosters accordingly," said Riley Panko, the company's senior content developer and marketer, in a blog post last week.
Among the survey's findings:
51 percent of small businesses are likely to hire new employees in 2019.
Small businesses say they are most likely to hire for sales and marketing (39 percent), customer service (36 percent), and IT (32 percent) positions.
23 percent of small businesses expect to hire one to three new employees, and 14 percent will hire 20 or more.
56 percent expect to hire for entry-levelpositions, and 52 percent are looking for mid-level employees.
74 percent plan to add full-time employees, while 40 percent will hire part-time employees.
57 percent say it's unlikely they'll fire or lay off employees.