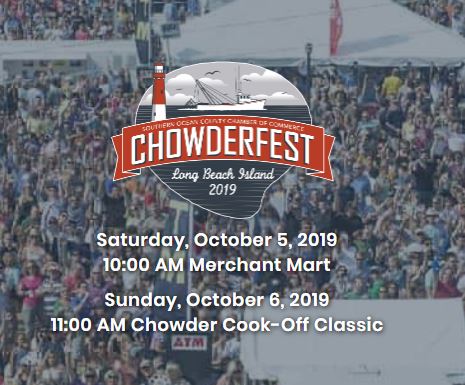 You don't have to be a big organization to make a big impact. Two of our ChamberLink members are highlighted this week because they exemplify this idea.
Example No. 1 is the Southern Ocean Chamber of Commerce and it's upcoming ChowderFest Weekend on Oct. 5 and 6 in Beach Haven. Since 1989, Chowderfest draws 15,000 visitors to Long Beach Island a full month after the unofficial end of summer on Labor Day.
So what's the secret to this two-day event's success? The chamber's not talking, but if I were to hazard a guess, I'd offer two things—great local participation and a wallet-friendly price.
On Saturday, Chowderfest kicks off with a Merchant Mart, featuring blow-out bargains from dozens of Southern Ocean County Chamber of Commerce members. This free event includes live music, specialty foods, and cold beer for purchase, as well as special crafts and activities for children. The festivities are held from 10 a.m. to 5 p.m., rain or shine, at the Taylor Avenue Ballfield between Ninth Street and Taylor Avenue in Beach Haven.
On Sunday, more than a dozen local restaurants join in the fun during the 31st Annual Cook-Off Classic, starting at 11 a.m. at the same location. Each restaurant prepares over 200 gallons of their secret recipe to provide unlimited samples to ticketholders to earn their votes in the Red, White and Creative categories. Visitors can experience the themed booths, enthusiastic servers and a number of surprises under the big tents as they decide their favorite. General admission tickets for Sunday are $30 for adults and $10 for children.
Example No. 2 is the Gloucester County Chamber of Commerce, which I am proud to say is a winner of one of NJBIA's 2019 Awards for Excellence in the nonprofit category.
Eight years ago, the Gloucester County Chamber started a 501(c)3, which has since awarded nearly $50,000 in college scholarships and offered even more to its member companies in the form of grants and micro-loans for workforce training and development programs.
GCCC will be honored at NJBIA's Awards for Excellence Reception at 6 p.m. on Oct. 29 at the Bridgewater Marriott. I invite all of our ChamberLink members to come out and congratulate GCCC.
Here are some more noteworthy events coming up next week from ChamberLink members:
To learn more about the 23 organizations that participate in NJBIA's ChamberLink program, which provides reciprocal discounts on memberships and events, go here.