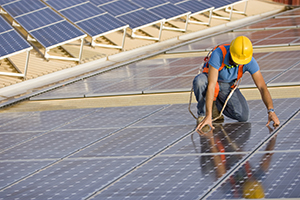 For years, coal was the most cost-effective way to generate electricity, making it difficult for cleaner sources like wind and solar energy to compete. Now, a new report by Energy Innovation suggests that may no longer be the case.
Energy Innovation, Policy, and Technology LLC, a research firm based in San Francisco, has identified thousands of coal-fueled electricity plants across the nation that could be replaced by more cost-effective renewable energy systems. Currently, 74 percent of coal plants in the U.S. are less cost effective than renewable energy, a number which will rise to 86 percent by 2025, according to the report.
"Due to the rapid recent cost decline of wind and solar, the combined fuel, maintenance, and other going-forward costs of coal-fired power from many existing coal plants is now more expensive than the all-in costs of new wind or solar projects," the report states. "This cost crossover raises substantial questions for regulators and utilities as to why these coal plants should keep running instead of new renewable power plants."
New Jersey does not have any coal-based power plants, but it does have a substantial renewable energy industry, which could benefit from the increased competitiveness with coal.
Additionally, emissions from coal plants in Pennsylvania and Ohio are often carried to New Jersey on prevailing winds and affect the state's air quality. Reducing the use of coal in this area would improve air quality in New Jersey.