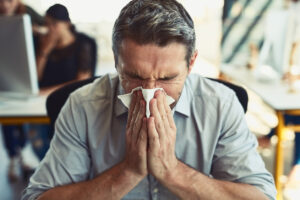 New Jersey's paid sick leave law takes effect in a little over a month, and legal experts are still trying to answer some critical questions on how to implement it.
The law firm Jackson Lewis took a deep dive into the regulations that were released Monday by the NJ Department of Labor and Workforce Development (LWD). In this detailed article, attorneys James McDonnell and Beth Braddock provide answers to 15 questions that had been hanging over employers since the law was enacted in the spring. They also look at six questions that remain unanswered, and come up with a couple of new ones themselves.
Beginning Oct. 29, employers must provide up to 40 hours of paid sick leave to employees in an employer-designated benefit year. Employers may provide one hour of paid sick leave for every 30 hours worked (accrual method) or provide the 40 paid sick leave hours at the beginning of each benefit year.
One of the biggest questions surrounds Paid Time Off (PTO) policies that do not distinguish between sick leave and other paid leave, such as vacation.
PTO policies are allowed, provided they meet the conditions of the law.  The (LWD) clarifies that a compliant PTO policy must: provide for accrual or advancement of PTO at an equal or greater rate than the law; permit PTO to be used for the same reasons as in the law; calculate the rate of pay of the PTO in accordance with the regulations; and provide for payment or carryover of unused PTO.