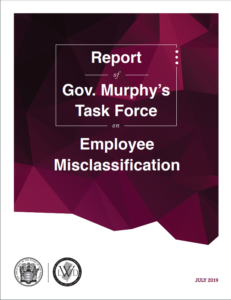 An analysis by the law firm Jackson Lewis suggests employers take employee misclassification seriously because the report by the New Jersey's Task Force on Employee Misclassification indicates New Jersey is looking to use the full spectrum of enforcement mechanisms available to it.
"The stakes of losing at the agency level are high and may cost businesses and owners the right to operate in the state and to continue their relationships with their partners," attorneys James McDonnell, Suellen Oswald, and Adam Lounsbury write. "Potentially higher fines, legal expenditures, and risk of litigation suggest that businesses using independent workforce arrangements should consider evaluating whether their model is defensible and appropriate for the services they are outsourcing to independent contractors."
A look at the report's recommendations backs up this assessment. They include creating new reporting mechanism for employees to alert the New Jersey Department of Labor (DOL) if they think employees are being misclassified, stronger enforcement with "joint enforcement sweeps" involving different agencies, and even referring companies as well as individual business owners to the Attorney General's office for criminal prosecutions.
The task force was established in May 2018, consisting of representatives from DOL and the departments of the Treasury, Law and Public Safety, Agriculture, Banking and Insurance, Human Services, and Transportation, and the Economic Development Authority. It released its assessment two weeks ago (as NJBIA reported here).