Forcing government workers to pay agency fees to unions violates the First Amen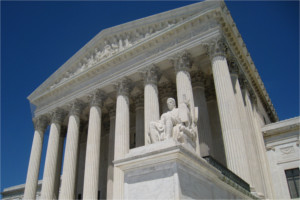 dment rights of those who choose not to be in a union, the U.S. Supreme Court ruled today. The news website Politico reports that the justices ruled 5-4 against an Illinois law, saying it violates public employees' right not to back union activity because it required all workers to pay agency fees.
"The decision overturns a 41-year-old precedent in which the court unanimously found that such charges did not run afoul of the Constitution's free-speech and free-association rights," the article said.
"…public employees are forced to subsidize a union, even if they choose not to join and strongly object to the positions the union takes in collective bargaining and related activities," Associate Justice Samuel Alito wrote for the majority in Janus v. American Federation of State, County, and Municipal Employees, Council 31. "We conclude that this arrangement violates the free speech rights of nonmembers by compelling them to subsidize private speech on matters of substantial public concern."
Alito was joined by Justices John Roberts, Anthony Kennedy, Clarence Thomas and Neil Gorsuch. Associate Justice Elena Kagan wrote the dissenting opinion; she was joined by Ruth Bader Ginsberg, Stephen Beyer and Sonia Sotomayor.
"The majority overthrows a decision entrenched in this Nation's law— and in its economic life—for over 40 years," Kagan wrote. "As a result, it prevents the American people, acting through their state and local officials, from making important choices about workplace governance."