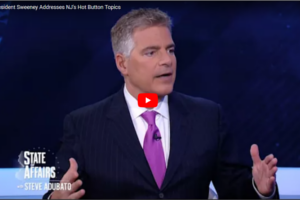 Senate President Steve Sweeney recently joined Steve Adubato on "State of Affairs" for a provocative discussion on spending, proposed taxes and a $15 minimum wage increase, New Jersey's public employee pension system, legalizing marijuana and other important subjects as the Legislature works on Gov. Phil Murphy's proposed budget.
A video of the full interview can be found here.
Senate President Sweeney will also be taking part in NJBIA's "Meet the Decision Makers" event on May 16 at the Ramada Plaza Hotel & Conference Center Cranbury South Brunswick. To register for the event, visit here.