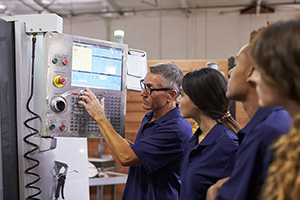 Businesses could be eligible for tax credits for participating in apprenticeship programs and employing apprentices as part of a wide-ranging legislative plan to make business apprenticeships more accessible.
Senator M. Teresa Ruiz, chairwoman of the Senate Education Committee, introduced a package of bills to boost New Jersey's apprenticeship efforts, and timed her announcement of their introduction to coincide with National Apprenticeship Week, Nov. 12-16.
"Creating more accessible pathways to apprenticeships in New Jersey would lead to an invigorated economy, expanded opportunities for New Jersey residents, and a more diversified workforce," Ruiz said.  "Our mission is to expand and create more economic opportunities throughout the state by encouraging all industries to create pathways for underrepresented populations in high demand industries.
NJBIA Vice President Michael Wallace said he was still reviewing the bills, but noted that the association viewed apprenticeships as an excellent way to give people the on-the-job training that leads to employment.
"Anything that can make apprenticeship programs more feasible and improve the chances of that return on investment is usually a positive," Wallace said.
NJBIA has been promoting the idea of apprenticeships as one way for businesses to cope with a severe shortage in skilled labor. Both the federal and state governments have launched ambitious apprenticeship programs. Earlier this year, for instance, the New Jersey Department of Labor and Workforce Development launched its Apprenticeship Network.
Ruiz's bill package consists of:
S-3061 – Provides corporation business tax and gross income tax credits for businesses that participate in DOL registered apprenticeship programs; establishes grant program for tax-exempt organizations participating in DOL registered apprenticeship programs.
S-3062 – Provides corporation business tax and gross income tax credits for businesses that employ apprentices in DOL registered apprenticeships.
S-3063 – Provides tuition fee waiver apprenticeship courses.
S-3064 – Establishes task force to develop statewide plan to diversify apprenticeships.
S-3065 – Establishes youth apprenticeship pilot program in Department of Education.
S-3066 – Creates five-year High-Growth Industry Regional Apprenticeship Development Grant Pilot Program.
S-3067 – Establishes five-year Apprentice Assistance and Support Services Pilot Program.
S-3068 – Requires Commissioner of Labor and Workforce Development to establish apprenticeship mentoring program for women, minorities, and persons with disabilities.
S-3069 – Enhances pre-apprenticeship programs and allocates funds therefore.
S-3070 – Concerns NJ PLACE program and allocates $300,000 for FY2019 therefore.
The bills are headed to the Senate Labor Committee for consideration.