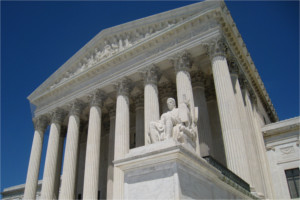 Several legal cases that could impact employers may come before the U.S. Supreme Court next term, adding more intrigue to what is shaping up to be a contentious confirmation process for nominee Brett Kavanaugh.
Justice Anthony Kennedy is retiring, and Kavanaugh has been selected by President Donald Trump to be the one who takes his place.
Recently, HR Dive looked at several business-related cases that could come before the r justices on the court in the near future.
Kleber v. CareFusion Corp. The 7th Circuit holding that the age discrimination law "protects both outside job applicants and current employees." Last year, the Supreme Court seemed to indicate the opposite position when it declined to take up Villarreal v. R.J. Reynolds Tobacco Co.
Rizo v. Yovino. The 9th Circuit said that employers cannot pay women less than men based on their salary history because it did not constitute "a factor other than sex."
EEOC v. R.G. & G.R. Harris Funeral Homes. This case questions whether Title VII of the Civil Rights Act of 1964 prohibits discrimination based on gender identity.
"This past SCOTUS term saw a number of employer wins, including a decision that could weaken unions and another that approved collective action waivers," HR Dive writes.
If Kavanaugh is confirmed, the conservative majority on the court would be continued.