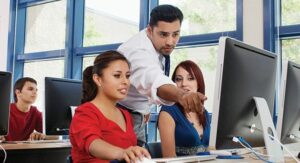 The Trump administration wants government and businesses to work more closely together to produce the skilled workers needed to fill more than 6.7 million job openings nationwide.
In an executive order signed yesterday, Trump created the President's National Council for the American Worker to develop a national strategy for "empowering American workers."
This would include recommendations for affordable education and skills-based training programs; encouraging coordination between the federal government, private employers, educational institutions, labor unions, and other non-profit organizations; and fostering consistency in implementing policies developed under this order.
The order highlights a number of policies that NJBIA has long advocated in New Jersey to address a chronic shortage of skilled labor. These include portable industry-recognized credits, work-based learning opportunities and greater partnerships between businesses and education institutions. The key is to provide people with the skills that are in demand now and will be in demand in the future.
"For too long, our country's education and job training programs have prepared Americans for the economy of the past," the E.O. states. "The rapidly changing digital economy requires the United States to view education and training as encompassing more than a single period of time in a traditional classroom.  We need to prepare Americans for the 21st century economy and the emerging industries of the future."
The goals is to produce results-driven education and training so that "American students and workers can obtain the skills they need to succeed in the jobs of today and of the future."
The order also establishes the American Workforce Policy Advisory Board to advise the council on ways to combat the skills crisis by investing in and increasing demand-driven education, training, and re-training.