United has volunteered to donate space on its passenger aircraft to transport baby formula from the United Kingdom to the U.S. as part of the federal government's Operation Fly Formula program to help alleviate the ongoing formula shortage that has left American parents desperate to feed their infants.
The White House announced on Wednesday United will transport Kendamil formula free of charge from Heathrow Airport in London to multiple airports across the U.S. over a three-week period, beginning June 7. The shipments will contain over 300,000 pounds of formula, which is enough formula to fill 3.7 million 8-ounce baby bottles.
United, an NJBIA member that operates a major airline hub at Newark Liberty International Airport, is the first airline carrier to donate space on its flights for formula shipments. The first two Operation Fly Formula missions were flown by a U.S. Air Force cargo jet and a FedEx Express freighter carrying Nestle-brand formula from Germany.
"I want to thank United Airlines for partnering with us to get this done — they're doing it on their own — with the first flight next week, continuing over the next two to three weeks," President Joe Biden said in his remarks on Wednesday during a virtual meeting with manufacturers. "And Target, the department store, has agreed to partner with Kendal Nutricare to distribute this formula quickly to American families in stores and online."
The White House also said that another Operation Fly Formula mission will bring Bubs Australia formula from Melbourne to Pennsylvania and California on two flights June 9 and June 11, respectively. This delivery will include 380,000 pounds of infant formula, which can make 4.6 million 8-ounce bottles. Additional deliveries of Bubs Australia formula will be announced in the coming days.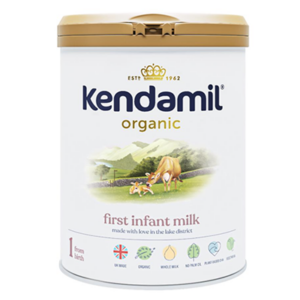 The Food & Drug Administration last week said it would relax enforcement of import rules to enable Kendal Nutricare to export about 2 million cans of Kendamil formula, equivalent to 54 million standard feeding bottles. The agency also cleared the way for the importation of 1.25 million cans of Bubs Australia formula.
President Biden launched Operation Fly Formula to speed up the import of infant formula and start getting more formula to stores as soon as possible. Under Operation Fly Formula, the U.S. Department of Agriculture (USDA) and the Department of Health and Human Services (HHS) are authorized to use Department of Defense (DOD)-contracted commercial aircraft to pick up overseas infant formula that meets U.S. health and safety standards.
The Biden administration has taken a number of other actions to ensure there is enough safe infant formula for families, including invoking the Defense Production Act, entering into a consent agreement between the FDA to reopen Abbott Nutrition's Sturgis facility, and issuing FDA guidance so that major formula manufacturers can safely import formula that is not currently being produced for the U.S. market.