With 2020 Census Day fast approaching, New Jersey state and local leaders joined Montclair State's President Susan A. Cole, Assistant Vice President for Hispanic Serving Initiatives Katia Paz Goldfarb, students and staff to kick off the 2020 U.S. Census New Jersey Complete Count initiative at a campus rally on February 10.
New Jersey Secretary of State Tahes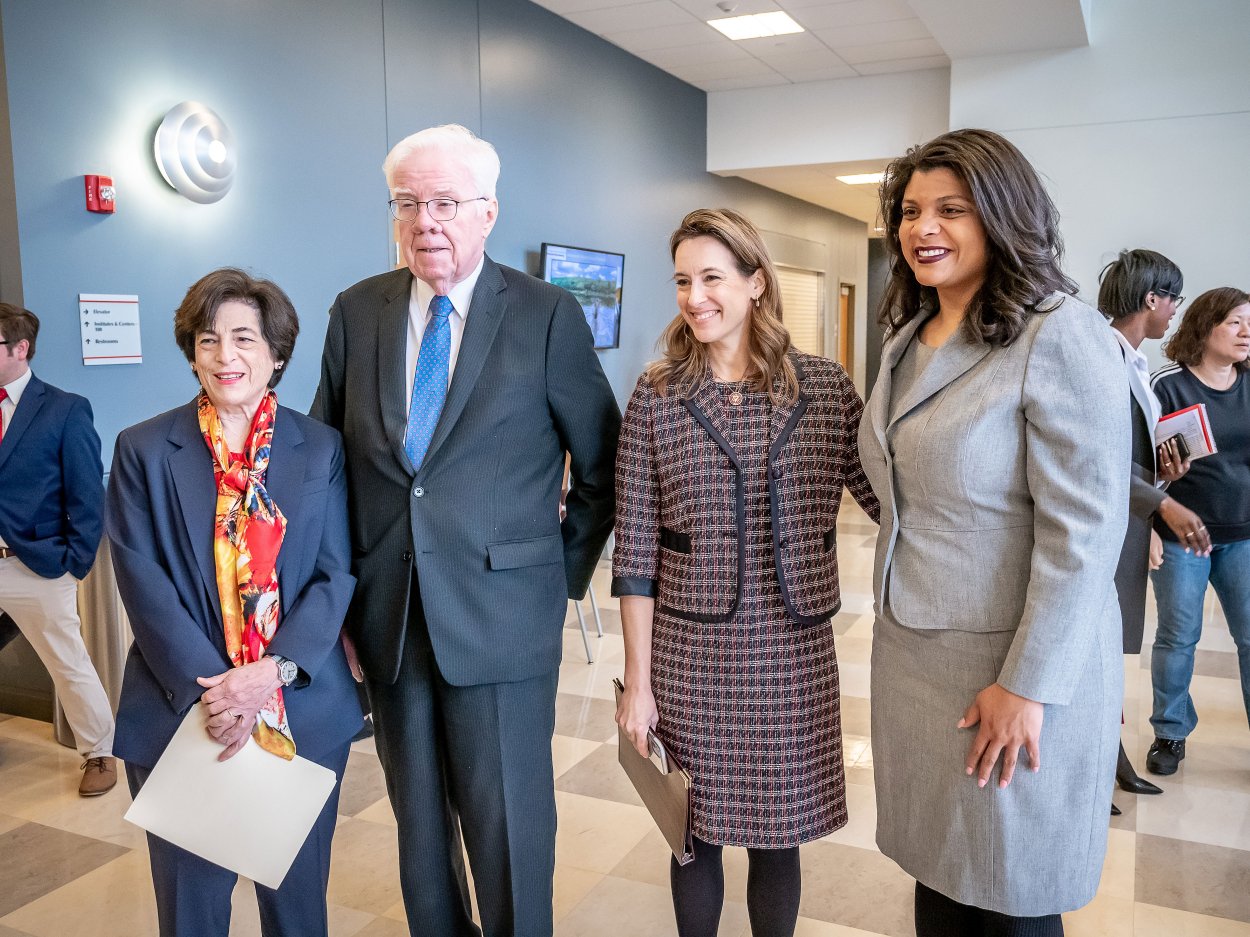 ha Way, U.S. Rep. Mikie Sherrill (NJ-11), NJ Assemblywoman Britnee Timberlake (D-34), NJ Assemblyman Thomas P. Giblin (D-34), Montclair Mayor and Essex County Administrator Robert Jackson, Passaic County Freeholder John W. Bartlett, and representatives from the offices of both U.S. Senators representing New Jersey – Robert Menendez and Cory A. Booker – joined U. S. Census Bureau Assistant Regional Manager Lisa Moore to address the importance of a complete and accurate count of every person living in New Jersey.
"Montclair State students are made for these times," said Way. "We all must remember there is strength in numbers but we have to activate, galvanize and educate all in terms of this census effort.""The census determines our congressional representation and the annual allocation of federal funding for everything from Medicaid to highway dollars," said Sherrill. "New Jersey already gets back less federal funding for every dollar we send to the federal government than any other state in the country, making a complete census count even more critical to the future of our state. My office is working with the U.S. Census Bureau and stakeholders throughout the community, like Montclair State University, to make sure everyone is counted and to spread information about job opportunities with the census."
Moore explained that mobilizing Montclair State's diverse, local student population – the University is a Hispanic-Serving Institution with more than 40% of its student body identifying as African American or Hispanic – was key to ensuring that New Jersey's diverse population will be more accurately counted.
"We need to hire locally to ensure an accurate count," said Moore. "We need trusted voices in the community, talking the census message to the people: It's safe, easy and important."
Through Complete Count, students and others, working for $21/hour, will fan out across communities they know well and encourage each and every person to complete the census. Almost a quarter of the state's population, including people of color, low-income individuals, children, immigrants and people who are homeless, reside in areas considered "hard to count" by the Census Bureau, and are less likely to be counted. These same communities often have the highest poverty rates and stand to benefit the most from essential services funded by the federal government.
"I am thrilled that Montclair State University and its students are very involved and engaged with the census," said Way. "Your efforts will help in reaching a complete count in New Jersey. Thank you for all that you are doing."