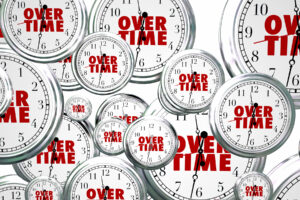 More changes could be coming to the rules governing overtime for employees whose hours worked change from one week to the next. The U.S. Department of Labor (DOL) recently indicated it would examine ways that employers who pay bonuses and other incentives can be given more flexibility in calculating overtime for workers with fluctuating workweeks.
"This rulemaking stems from an uncompleted effort in the last year or so of the George W. Bush administration to revise the regulations," according to Alfred Robinson of Ogletree Deakins law firm in Washington, D.C. "Instead, the Obama administration completed the rulemaking, finalizing a rule that differed from the proposal and limiting the ability of employers to use the fluctuating workweek methodology to comply with the overtime requirement of the FLSA."
Call it the other overtime rule. To be sure, the department's plan to increase the minimum salary threshold for exempt employees will have the broader impact, but it's not the only change out there when it comes to calculating overtime. In addition to this proposal, DOL has also offered guidance on regular rate of pay rules this year.
Federal law requires employers to pay nonexempt employees an extra 50% of their hourly wage for each hour over 40 they work during a week, the so-called time-and-a-half rule. For employees whose hours vary, the law allows employers to pay them a flat weekly salary that remains the same regardless of how many hours under 40 they work. For overtime, the weekly salary is divided by the number of hours worked during the overtime week to determine the hourly rate of pay. (Here is an example of how it works.)
According to Ryan Golden at HR Dive, this method is not available to employers who pay employees bonuses or other incentive-based pay, and DOL wants to revise the regulations to provide greater flexibility.