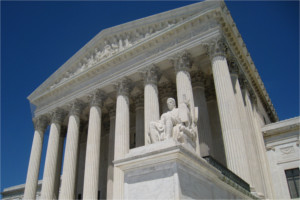 Businesses cannot be compelled into class action arbitration unless their arbitration agreements expressly allow it, according to a recent U.S. Supreme Court ruling.  And according to the law firm Jackson Lewis, the court also ruled that the Federal Arbitration Act "forecloses a state-law interpretation of an arbitration agreement authorizing class action based solely on general or ambiguous language in the agreement."
"The rule against coercing parties into arbitration is particularly important in the class action context," the attorneys for Jackson Lewis write. "Class actions are substantively different from the ordinary, bilateral arbitration contemplated by most parties to an employment arbitration agreement. Among other things, class actions expose the employer to exponentially greater liability and risk, while eliminating the safeguard of an appeal. Class actions also purport to speak for employees who may not want to participate in the action, but nonetheless find themselves bound by an arbitration award."
At issue is a data breach that compromised employee information at a company called Lamps Plus in California. One of the employees, Frank Varela, filed a putative class action lawsuit. Because the company and its employees operated under an arbitration agreement, Varela was compelled to arbitrate the complaint but the court said the arbitration would proceed as a class action. Lamps Plus objected.
The arbitration agreement between Lamps Plus and its employees did not explicitly address class-action arbitration. The 9th U.S. Circuit Court of Appeals ruled that class action arbitration was implicit in the agreement, but on Wednesday, the Supreme Court said that interpretation was wrong.
As Jackson Lewis explained, "…the Court announced that ambiguity regarding class and collective actions must be resolved in favor of ordinary, bilateral arbitration, regardless of which party drafted the agreement."
Had the court ruled the opposite, then in theory, all businesses with arbitration agreements that did not specifically prohibit class-action arbitration could have been subject to it.