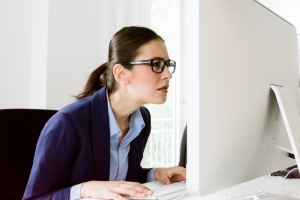 The single most frequent type of secrets employees hide from their employer is lying about a doctor's appointment, but it's hardly the only one, according to a survey by the employment blog  SimplyHired. Employees said they have hid everything from crying or sleeping at work to stealing from the company, as well as things that weren't their employers' business to begin with, like their religious or political affiliations.
SimplyHired talked to 1,000 employed adults about what they hid from their bosses and why, then broke down the results according to various demographics.
"Everyone knows establishing trust between a boss and his or her employees is one of the cornerstones of company success and productivity – but what about the conversations that never really feel comfortable?" the blog wonders. "Constructive feedback, personal problems at home, and even health concerns may feel like bridges you never want to cross with the person you have to report to."
As for the most frequent secrets, 34 percent said they lied about doctor's appointments, 30 percent said crying at work and 29 percent sleeping at work. Stealing from the company (13.8 percent) and abusing an expense account (7 percent) were among the least frequent secrets, but were the most likely to make the employee feel guilty.
Join us for another great seminar: