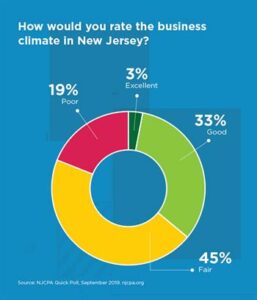 The greatest issue impacting the operation of a business in New Jersey over the next 12 months is the state's fiscal problems, according to nearly 30 percent of the 347 respondents in a survey conducted by the New Jersey Society of CPAs (NJCPA) earlier this month. State and local taxes ranked second by nearly 27 percent of respondents.
On a broader scale, respondents cited high taxes, pension and health benefits funding for public employees, and regulatory burdens as the top issues that are likely to hinder the state's future economic growth. Rising health care costs and decaying infrastructure also rounded out their main concerns.
Respondents explained that global trade tariffs and the uncertainty that it and other federal policies bring at the state level could also impact New Jersey-based businesses. In addition, respondents said the state's minimum wage increase is also a hindrance to business owners.