NJBIA's Post-Secondary Education Task Force, whose mission is to keep millennials in New Jersey and match education programs to private sector jobs, launched its first meeting this week to strategize on  building a "brand" for New Jersey higher education, career pathways, and related workforce issues.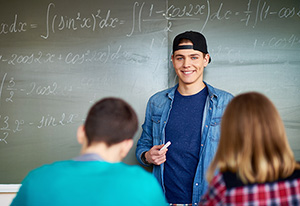 Businessmen and businesswomen who'd like to participate on the panel and help shape the solutions the task force ultimately proposes, are encouraged to contact NJBIA to join.
"We're looking for more business people to serve on the task force and share their insights with the educators, government officials and nonprofit partners already onboard," NJBIA President & CEO Michele Siekerka said.
"The state's education programs need to be in sync with the needs of the private sector, which is why we are seeking more business people to join us," Siekerka said. "They will have the opportunity to share information about their workforce needs and their important perspective will help to inform the task force's work."
The genesis for the task force's creation was NJBIA's recent event, "The Education Equation: Strategies for Retaining New Jersey's Future Workforce," which brought together prominent leaders from business and academia to consider why millennials (age 18 to 34) are leaving New Jersey at a faster rate than all other age groups. New Jersey has the highest rate of millennial outmigration in the country with a net loss of 22,500 young people in 2015 alone, according to the U.S. Census.
"This is our future workforce that is leaving and most won't come back," Siekerka said. "Millennial outmigration is a serious issue that impacts New Jersey's business community, the future of the state's economy and ultimately all New Jersey residents."
Siekerka noted the loss of 43% percent of New Jersey high school graduates to out-of-state colleges demonstrates taxpayers are getting a negative return on the investment in public education. New Jersey taxpayers spend more than $19,000 per public school student each year, every year, in grades K-12.
"New Jersey has to develop policies that provide incentives for millennials to stay in New Jersey for their post-secondary education and to start their careers here," Siekerka said. "The task force is working on developing strategies to build a more dynamic brand for New Jersey higher education and create less e
xpensive pathways to post-secondary education. We must make New Jersey a more attractive and affordable option for people after they graduate from high school."
Any business person who'd like more information about joining the Post-Secondary Education Task Force is urged to contact Michele Siekerka at msiekerka@njbia.org.