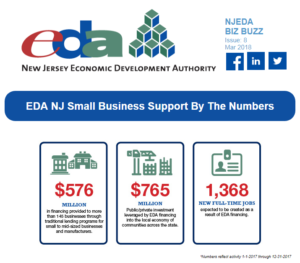 The NJ Economic Development Authority doesn't just help large companies; many of its programs are designed for small and mid-size companies.  In fact, they have helped 145 small businesses secure more than half-a-billion dollars in financing, loans and loan guarantees as well as incentives.
In all, EDA works with 26 financial institutions in its Premier Lender Program aimed specifically at small businesses. EDA will guarantee loans from private institutions as well as lines of credit.  The financing can be used for purchasing fixed assets or as working capital.
The agency also partners with the UCEDC to provide technical assistance to entrepreneurs.
Check out the latest issue of Biz Buzz to find out what EDA has been up to.
Among its programs are:
Direct Loans
Businesses in need of financing and committed to job creation/retention may be eligible for direct loans through EDA when financing is not available under other EDA financing programs.
Small Business Fund
Creditworthy small, minority-owned or women-owned businesses that have been in operation for at least one full year and may not have the ability to get bank financing, or not-for-profit corporations that have been operating for at least three full years, may be eligible for direct loans.
Garden State Growth Zone Business Lease Incentive
The Garden State Growth Zone (GSGZ) Business Lease Incentive (BLI) offers reimbursement of a percentage of annual lease payments to for-profit businesses and nonprofit organizations in eligible areas that plan to lease between 500 and 5,000 square feet of new or additional market-rate, first-floor office, industrial or retail space for a minimum of 5 years.
Garden State Growth Zone Business Improvement Incentive
GSGZ Business Improvement Incentive (BII) offers grants of up to 50 percent of total project cost, (not to exceed $20,000), to businesses operating within the first-floor of a commercial corridor in the GSGZ that are planning to make building improvements.
Small Business Services
In addition to the millions of dollars in funding EDA administers as loans and loan guarantees to New Jersey small businesses, EDA also partners with several organizations that provide a wide array of services to New Jersey small businesses and entrepreneurs.