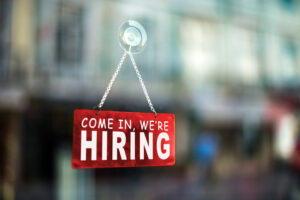 Employee turnover is at an all-time high in the United States but remains well below the national average in the eleven-state Northeast region, according to a Survey by Salary.com.
Overall, voluntary turnover (separations not initiated by the employer) is 14.2 percent for the nation, while in the Northeast, it is 12.5 percent.  Total turnover, which includes terminations, is 19.3 percent nationally and 17.3 percent in the Northeast.
Turnover has been rising steadily since 2014, when it was 15.7 percent nationally.
Looking at the rates by industry, the highest turnover was in Hospitality, which experienced a 20.2 percent voluntary turnover and 29.3 total.  The lowest was Utilities, with 7.2 percent voluntary and 9.8 percent total.
The turnover rate should come as no surprise, given the nation has been experiencing a labor shortage for several years now.  This summer, the number of job openings increased beyond the number of unemployed people for the first time since 2003.