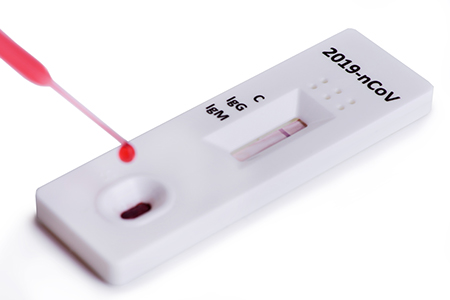 Employers reopening their businesses are prohibited from requiring employees to undergo COVID-19 antibody testing as a condition of returning to work, but viral screening for active infections is still permitted, according to the latest guidance issued by the U.S. Equal Employment Commission (EEOC).
An antibody test determines if a person has had COVID-19 in the past, and is different from a viral test that identifies active cases of COVID-19. Viral tests to identify current COVID-19 infections are allowed because of the health threat the disease poses to others in the workplace, according to the EEOC, which enforces federal anti-discrimination laws, including the Americans with Disabilities Act (ADA).
The EEOC on June 17 updated and expanded its technical assistance publication, "What You Should Know About COVID-19 and the ADA, the Rehabilitation Act, and Other EEO Laws," to make it clear that antibody testing to reveal prior infections is not permissible under the ADA because this type of test does not meet the standard for medical examinations that are job-related or a business necessity.
The EEOC cited the Centers for Disease Control and Prevention's recent finding that antibody testing should not be used as a replacement for direct diagnostic testing of active, contagious cases.
"The modified guidance likely results from evolving understanding on the part of the CDC and the medical community that there is uncertainty as to the reliability of antibody testing and the significance of test results," according to Connell Foley attorneys Marianne Tolomeo and Molly Hurley Kellett in their recent blog post on the new EEOC guidance.
"The consensus now appears to be that antibody testing is no longer conclusive of an individual's immunity and, therefore, cannot be used as part of the "direct threat" analysis permitted under the ADA," Tolomeo and Kellett wrote.
In light of the CDC guidelines, the EEOC said COVID-19 antibody testing "should not be used to make decisions about returning persons to the workplace."