Nearly 450 people, mostly young women, heard inspiring tales and learned practical tips for launching and growing a business during the recent 4th Annual Women Entrepreneurship Week (WEW) Conference at Montclair State University.
A major aim of Women Entrepreneurship Week is to connect successful female businesswomen with college-age women all over the globe. Throughout the day, speakers and panelists offered their own compelling stories of starting their own businesses and leading large companies, telling attendees they must be persistent and ready to seize opportunities.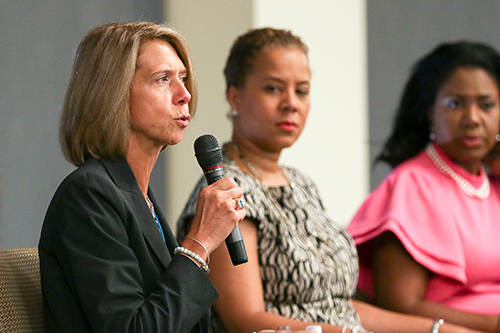 Michele Siekerka, NJBIA President and CEO, was among the top executives from New Jersey corporations and nonprofits who took part in a lively panel discussion about what it takes to be entrepreneurial within a large organization.
The "Entrepreneurship in the C-Suite" discussion was moderated by Kimberly Weisul, editor-at-large at Inc., and also included panelists Leecia Eve, vice president of Government Affairs for Tri-State Region at Verizon; Michellene Davis, executive vice president and chief corporate affairs officer at RWJBarnabas; and Judith Spires, CEO of Kings Supermarkets.
WEW started at Montclair State in 2014 when four north Jersey universities held events during the same week. Since then the idea has gone global with 76 universities and nonprofits in 22 states in the U.S. and 15 countries all over the world involved this year with events to celebrate women entrepreneurs.
Read more about the Oct. 18 event here on the blog of Montclair State University's Feliciano Center for Entrepreneurship.