Time is running out for New Jersey businesses to take their Big Shot at a big prize.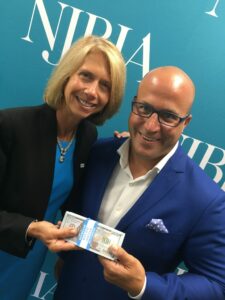 The New Jersey Business & Industry Association is giving business owners a chance to win $15,000 and 48 hours of free consulting time as part of NJBIA's Big Shot contest, which was launched last month. Entrants have until Nov. 30 to upload a short video to www.bigshotnj.com detailing why their business deserves its own Big Shot at the winnings.
"This is an amazing opportunity for business owners to do something quick and easy and  conveniently with their smart phones and have a real chance to take their business to the next level," said NJBIA President and CEO Michele Siekerka. "A little entrepreneurial spirit can go a long way and we encourage businesses to not let this chance slip and to submit a video before the deadline."
For the Big Shot campaign, NJBIA has teamed up with New Jersey-based entrepreneur, CEO and business consultant Mike Luzio to attract contest participants and spread the word about NJBIA's valuable toolbox of member services.
On Wednesday, Nov. 15, from 6-8 p.m., Luzio will attend NJBIA's Young Professional Networking Happy Hour at the Wicked Wolf Tavern in Hoboken to help inspire contestant participation in the contest. For more about the networking event, visit here.
"I always enjoy meeting New Jersey business owners to hear their stories and hopefully provide guidance and encouragement," said Luzio, who started a business in his basement in 2003 with $15,000 and sold it for millions 10 years later. "For any company that wants to see their business grow, this is their big shot to do it."
To enter, business owners upload original videos – as short as 90 seconds and no longer than 10 minutes – detailing why they're most worthy of the prize. They are asked to answer the following questions in their videos, which can be shot on mobile phones:
What inspired you to start your company?
What are your biggest challenges?
What NJBIA benefit would you most take advantage of?
What would you do with $15,000 if you win?
Entrants have until Nov. 30 to submit their videos. Three finalists will be judged by NJBIA on ability to meet submission criteria, quality and appeal, originality and creativity.
Each finalist will then collaborate with Luzio to create a second short video.
A panel of NJBIA member business owners – not competing in the contest – will judge the three finalist videos on the same criteria and select a single grand prize winner. The contest winner will be named in early January.
Video entries and updates on the contest will be posted at www.bigshotnj.com. Updates will also be posted on NJBIA social media pages at #NJBIABigShot.