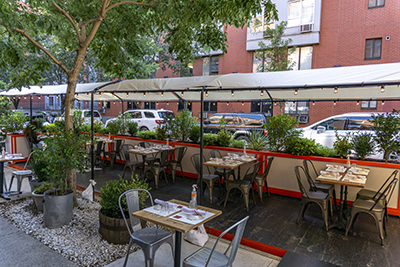 Gov. Phil Murphy on Friday signed legislation that expands opportunities for restaurants, bars, distilleries and breweries to operate outdoors until Nov. 22, 2022 regardless of whether COVID-19 indoor operating restrictions are lifted. 
The law creates a framework for municipalities to allow these businesses to utilize outdoor spaces or public sidewalks as extensions of their business premises for consumption of food and alcohol. Businesses owners must file an application with the municipal zoning officer, who cannot reject it if the business is compliant with the provisions of the law as well as local ordinances. 
The law also extends the effective period of permits issued under an ABC special ruling made last summer that allowed licensees to expand the premises where they can serve alcoholic beverages to include outdoor spaces. 
"NJBIA thanks Gov. Murphy and the sponsors and supporters of this legislation, as it will help better provide clearer flexibility and a roadmap for restaurants to innovate and improves the opportunity for them to be successful and safe during the continued pandemic," NJBIA President & CEO Michele Siekerka said.  
"As we head toward warmer months and hopefully increased capacity, these bills will help bring more certainty and predictability to dining establishments that are able to provide outdoor dining throughout the state," Siekerka said. 
The law also authorizes the ABC to create a seasonal farm market permit to allow a holder of a limited brewery license, restricted brewery license, craft distillery license, plenary winery license, farm winery license, or cidery and meadery license to sell any of the licensee's products in original containers at a seasonal farm market for off-premises consumption. The permit could be a daily or annual permit. 
The legislation, S-3340, was sponsored Senators Paul Sarlo (D-36), Nellie Pou (D-35), and Vin Gopal (D-11), as well as Assemblyman Roy Freiman (D-16). 
During the bill signing ceremony broadcast on Facebook Live, Murphy said that the operating restrictions placed on indoor businesses because of COVID-19 have caused "enormous economic pain" and that "no industry has felt that pain more acutely than our restaurant industry." 
Murphy said that allowing restaurants to convert parking lots, rooftop decks and sidewalks into outdoor dining spaces, and permitting bars to serve patrons outside their premises, had helped keep these businesses stay open last summer and fall.  
Noting that restaurants are now in a "dire season," he pointed out that an executive order he signed recently allowed indoor capacity to increase from 25% to 35%, effective Feb. 5. 
"I know that is welcomed, but I also know without the added benefits of the outdoor spaces, margins will remain, if positive at all, will remain razor thin," Murphy said. "We must give our restaurants more certainty that will allow those that make it through this winter…to know that they can again lean on the outdoor expansions."