As New Jersey businesses face unprecedented challenges brought on by the coronavirus pandemic, NJBIA is highlighting some of the uplifting ways business owners are responding. Share your good news story with us on social media at #NJBIAtogether or email us at communications@njbia.org.
---
Cheers to NJ Distilleries Mixing Up Hand Sanitizer for First Responders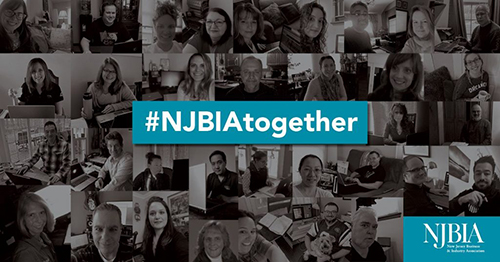 The Train Wreck Distillery in Mount Holly is just one of the state's many craft distilleries that have retooled operations to make the hand sanitizer that is sorely needed by law enforcement officers and other first responders.
"We're not distilling now, we switched all our whiskey operations, gin operations —we switched the whole operation up and are making hand sanitizer now," Train Wreck's Aaron Diamond told Dom Giordano of Talk Radio 1210 WPHT in an on-air interview last week.
Diamond said that when the price of hand sanitizer sold by online retailers skyrocketed due to shortages, he set out to make a reasonably priced, safe, 80% alcohol product using a "recipe" from the World Health Organization. "Right now we're in production and we're doing 3,000 to 4,000 bottles a day," he said.
After donating thousands of bottles to numerous South Jersey police departments, hospitals and other first responders, the family-owned Burlington County distillery decided it would also give back to the community by offering free hand sanitizer to residents at certain times and days, according to a post on its Facebook page.
Distribution dates and times are announced in advance on social media, and customers are asked to line up 6 feet apart at the front door in accordance with the governor's social distancing order.
For information about purchasing bulk orders of Train Wreck hand sanitizer, contact the distillery at trainwreckdistillery@gmail.com.
Trenton Manufacturer Ramps Up Production of Face Shields
Switlik Survival Products, a family-run business that creates safety and survival products for the aviation, marine and military markets, has shifted production to make face shields to protect medical professionals treating COVID-19 patients.
Richard Greco of NJ.com reports that the Trenton-based company is selling the shields at-cost for $13.95, but will be donating some as well to medical organizations in need.
"We made a list of hospitals in the area and have reached out to a couple of them to identify what their needs are so we can start to get these face shields out there," Switlik Consumer Marketing Manager Danielle Connelly said.
"Also, if someone is willing and able to pay for them, we are selling them as well," Connelly said. "We are not selling them for a profit, just for the cost of the materials. The more that we can sell, the more that we can donate."
For more information, go to Switlik's online store.
ZAGO Helping to Meet the Surge for Ventilators
As manufacturers across industry sectors pitch in to accelerate production of life-saving ventilator equipment, Newark-based ZAGO Manufacturing is helping to meet the heightened demand for its high-tech sealing fasteners used in ventilators.
While applications vary, ventilator manufacturers often integrate ZAGO sealing fasteners in the suctioning mechanism of the compressor in order to prevent airflow leakage and seal out contaminants. Unlike ordinary fasteners, ZAGO high-tech sealing fasteners are engineered with a rubber O-ring that when tightened, permanently seals out hazards while withstanding extreme pressure.
"Medical devices that contain either a suction mechanism or a pumping mechanism benefit from integrating ZAGO high-tech sealing fasteners with O-ring technology as they are essential for optimal air flow, reliability and peace of mind," said Harvey Rottenstrich, lead engineer, president and co-founder of ZAGO Manufacturing.
Manufacturing facilities are exempt from the governor's executive order that closed businesses during COVID-19.  "ZAGO is open and operating smoothly, without any disruption to its supply chain," said ZAGO CEO Gail Friedberg in a news release.
Community Rallies to Collect Donations for Hospitals
Several West Windsor area community groups have collected over 1,000 masks, 3,000 gloves and 300 goggles, which were all delivered to the Trenton Fire Department for distribution to Trenton's first responders.
The Trentonian reports these badly needed supplies were collected by: the Huaxia Chinese School; the Central Jersey Chinese American Association; and the Windsor Athletic Club, with support from the Chinese-American community at large.