As New Jersey businesses face unprecedented challenges brought on by the coronavirus pandemic, NJBIA is highlighting some of the unique and uplifting ways businesses are responding across the state. Share your good news story with us on social media at #NJBIAtogether or email us at communications@njbia.org.
Architects Design, Manufacture, Deliver Face Shields to Hospitals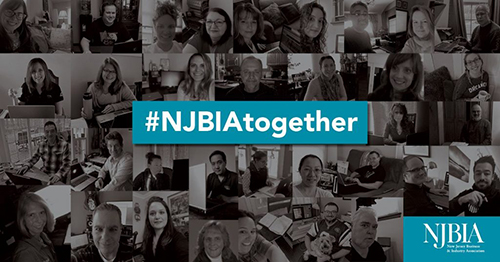 Studio Hillier, the renowned, award-winning architectural and design firm based, has always lived by the credo that their personnel are creative problem solvers with a determined spirit.
Only this time around, the challenge went well beyond the transformation of concept to concrete.
Earlier this month, the Princeton-based firm and longtime NJBIA member saw a media report about a local teenager using his personal 3D printer to produce personal protective equipment for the COVID-19 response. So Jerilyn Angotti, a controller at Studio Hillier, reached out to designer Dustin Bailey to see if the firm could have the same capabilities to help.
The next day, Architectural Designer Tsvetelina Churalska worked with Bailey to assemble a team and network to begin printing face shields. They found additional support on a Facebook group called SOMA NJ 3D Printers Alliance, a network of people devoted to the printing and delivering of face shields to New Jersey hospitals.
Only four days after seeing that initial report, Studio Hillier made its first mask deliveries to St. Mary's Hospital in Newtown, Pennsylvania and the Princeton Medical Center. To date, they have donated 190 high-quality face shields to five hospitals and two nonprofits in the area.
They have also established a Princeton PPE Collective, teaming with the Princeton University School of Architecture and STEAM Works Studio, to add partners and volunteers for future efforts.
"As architects, we have a social responsibility to the world that extends beyond our practice," Churalska said. "We can have a significant role in improving the well-being of communities by using our knowledge and expertise.
"It is vital in a crisis like this for everyone who has the ability to contribute. Everyone has a role they can play. Healthcare workers are on the front lines risking their lives taking care of the ill. As architects, this is the least we can do."
Goya Foods Donates 1 Ton of Food, Plus PPE Supplies
Jersey City-based Goya Foods has made an initial donation of over 200,000 pounds of food that will provide over 170,000 meals to organizations, food banks, food pantries and soup kitchens. The company has also donated over 20,000 protective masks across the nation.
"We are faced with an unprecedented national crisis, and Goya has always stepped up to the plate in times of desperate need," Goya Foods President Bob Unanue said in a recent press statement.  "As an essential business, our Goya teams are working 24/7 to meet the overwhelming demand for food and ensure that supermarket shelves nationwide are stocked with nourishing products, while also providing food to communities who are food insecure or not able to get to supermarkets."
NJ Car Dealerships Supporting First Responders, Healthcare Workers
New Jersey's new car dealers are helping healthcare workers, first responders and their communities during the COVID-19 pandemic by donating medical supplies, prioritizing the service of healthcare workers' cars and emergency vehicles, and even arranging rides to pharmacies and doctors' offices.
"The 500+ local dealerships are the backbone of their communities and are committed to helping their neighbors get through this crisis," said Jim Appleton, president of the New Jersey Coalition of Automotive Retailers.
For example, Genesis of Cherry Hill, Burns Hyundai, and Burns Buick GMC are offering Lyft rides to Marlton residents who don't have transportation and need to get to the grocery store, pharmacy or their health care provider, Appleton said.
Lucas Auto Group is making hand sanitizer and using innovative 3D printers to make masks. The dealership's service department is also prioritizing work on the vehicles of any healthcare professionals who need to get back on the road as soon as possible, he said.
BMW of Bridgewater has donated latex gloves to Newark Beth Israel and seat covers and gloves to a local police department. Steven's Jersey City Ford is repairing first responder vehicles to keep them running smoothly, including Jersey City police and ambulance vehicles, Newark police vehicles, and vehicles used by the New York City police and fire departments.
Wawa Donates 53-foot Refrigerated Truck
Wawa has stepped up to donate a refrigerated truck that will serve as a temporary morgue in Bergen County, where there are the most hospitalized COVID-19 patients and the most deaths.
Michael Tanenbaum, of the Philly Voice, reported that the pandemic has placed a heavy strain on hospital morgues, county facilities and private mortuaries that are running out of storage space for the dead bodies. Distributors of refrigerated trailers and trucks have been flooded with calls from cities and hospitals to manage the overwhelming loss of life.
Wawa has also announced it will donate $21,500 in supplies to food banks and charities across the greater Philadelphia area to support the COVID-19 relief effort.
Gov. Phil Murphy tweeted his gratitude to Wawa for the refrigerated truck, saying: "Their help is invaluable. We're so thankful."
As of Friday morning, Bergen County had 8,928 confirmed cases of COVID-19, including 390 deaths.