As New Jersey businesses face unprecedented challenges brought on by the coronavirus pandemic, NJBIA is highlighting some of the unique and uplifting ways business owners are responding across the state. Share your good news story with us on social media at #NJBIAtogether or email us at communications@njbia.org.
---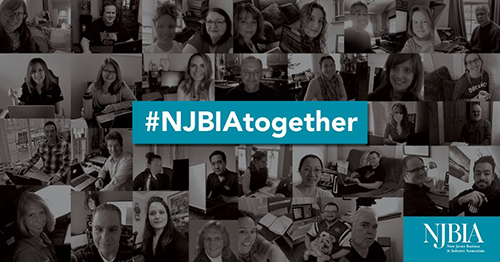 Major corporations and Main Street businesses alike are stepping up to provide monetary donations, equip healthcare workers, and initiate new programs to help their employees and their communities cope with the COVID-19 pandemic.
Donating Personal Protection Equipment for Healthcare Workers
New Brunswick-based Johnson & Johnson, which is part of a $1 billion initiative with the U.S. government to create manufacturing capacity for over 1 billion doses of a global COVID-19 vaccine by the end of 2021, said Monday it hopes to begin human trials this fall. But locally, J&J is also one of the many New Jersey companies making equipment and monetary donations to address the critical shortage of personal protective equipment for healthcare workers.
The pharmaceutical company has announced it is donating 10,000 goggles for New Jersey's healthcare workers to protect them from exposure to the coronavirus. On March 27, J&J also pledged $50 million for the immediate COVID-19 response.
"Those at the front lines are our colleagues, family members, customers and partners," said Michael Sneed, Johnson & Johnson's executive vice president for Global Corporate Affairs in a post on the company's website. "So we join the millions around the world who put them front and center right now, to support them as they provide care amidst COVID-19."
Kenilworth-based Merck & Company is donating 300,000 protective masks to New Jersey's Office of Homeland Security & Preparedness for healthcare workers and first-responders.
"At Merck, we recognize that our global mission to save and improve lives starts in New Jersey, home of our global headquarters and thousands of our employees," said Kenneth C. Frazier, Merck's chairman and chief executive officer, said in a press announcement on his company's website.
Merck previously sent 500,000 masks to New York City, which leads the nation in COVID-19 cases.
The LBU factory in Paterson (formerly known as Laundry Bags Unlimited) is churning out 20,000 cloth masks per week now for healthcare workers, instead of making the bags, aprons and other promotional items it usually manufactures, according to a story by NJ.com reporter Allison Pries.
Although these masks can't replace the N95 masks that are required to keep healthcare workers safe, LBU founder Jeff Mayer told NJ.com that workers are "putting these over N95 masks to make them more reusable." He said he hopes to ramp production to 35,000 masks per day if he can hire more people to sew them.
Free Coffee for First Responders, Healthcare Workers
Starbucks and Wawa are offering free coffee to first-responders and healthcare workers according to NJ101.5's Bill Doyle. Starbucks, which is also donating $500,000 for gear and CARE packages to first-responders, said the free tall coffee-to-go offer is good through May 3 for police officers, firefighters, paramedics, doctors, nurses, hospital and medical staff and medical researchers.
Wawa said March 26 it would give a free coffee-to-go of any size to healthcare workers and first-responders "to fuel their shifts during this crisis." The offer is extended to doctors, nurses, hospital and medical staff, medical researchers, police officers, firefighters, and paramedics, Wawa said.
"As the situation surrounding COVID-19 has evolved, our healthcare workers and first responders have been on the front lines every day working to keep us all safe," Chris Gheysens, Wawa President and CEO, said in a press statement. "This is just a small gesture to show our thanks for all the sacrifices they've made for the good of their communities and neighbors."
Helping Local Restaurants
Specialty Systems, Inc., an engineering and software consulting firm in Toms River, has announced a program to help local restaurants through the coronavirus crisis.
The company is encouraging employees to order take-out meals from their local restaurants over the next four weeks and will reimburse each employee for half of $400 in takeout meal costs to a maximum of $200, according to its press release.
Specialty Systems Vice President Bill Cabey said that the company has 75 employees so the program could provide $30,000 to local restaurants.
"During the year, our local restaurants provide us wonderful food, enjoyable evenings and we are pleased to support them through this difficult time," Cabey said.