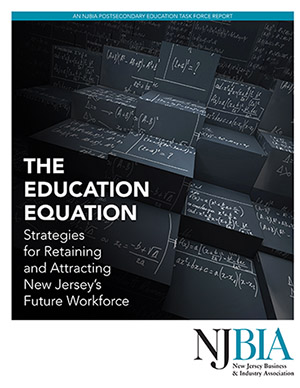 The New Jersey Business & Industry Association supports legislation that would reduce the cost of obtaining a bachelor's degree by allowing students to complete three years of study at a county college, followed by one year at a partnering four-year college or university.
The legislation, A-1890/S-869 (Jimenez/Sweeney, Cunningham) permits a "3-Plus-1" bachelor's degree program. The bill was released by the Assembly Higher Education Committee on Monday.
"New Jersey has the largest net loss of college-aged students in the nation and this legislation seeks to help reverse that by making the cost of a four-year degree in New Jersey less expensive," NJBIA Vice President Andrew Musick said. "Creating more affordable pathways for students to earn a bachelor's degree is essential to delivering the highly skilled workforce needed for New Jersey's long-term economic growth."
Earlier this year, NJBIA's Post-Secondary Education Task Force issued a report with 13 recommendations for retaining and attracting New Jersey's future workforce that included the development of cost-saving models for obtaining academic degrees.
The legislation would allow a four-year college or university to partner with a county college to establish a 3-Plus-1 degree program. Students would complete three academic years at the county college, and then transfer to the partnering four-year institution for their senior year and complete their degree at that institution's tuition rate.
The bill requires that courses offered to third-year students at county colleges under the "3-Plus-1" program be taught by tenured faculty and be equivalent to what is offered to juniors at accredited four-year institutions.