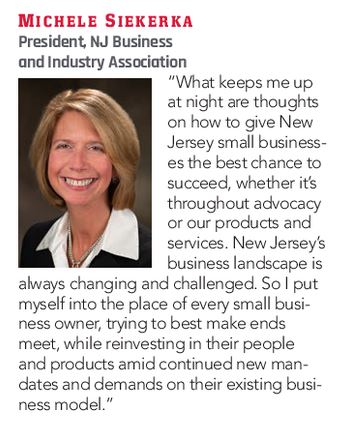 South Jersey Biz Magazine has named NJBIA President & CEO Michele Siekerka, Esq. to its "Power 50" List, which recognizes influential professionals who have changed South Jersey for the better.
"Siekerka leads the nation's largest, most influential employers' organization, advocating on behalf of New Jersey's large and small businesses for policies that will make New Jersey more affordable and regionally competitive," the magazine wrote in its July issue.
"Under Siekerka's leadership, the association's award-winning research on outmigration documented the loss of $20.7 billion in wealth from New Jersey over 11 years and set the agenda in Trenton for the enactment of a series of important pro-business reforms, including the recent repeal of the estate tax and the adjustment of the state income tax threshold for taxing retirement income."
The professionals recognized on the magazine's Power 50 List are the reason South Jersey is home to so many successful businesses and universities, the magazine said.
"These individuals have not only impacted this area, but other parts of the state and beyond, and continue to spread their footprint," the magazine wrote.