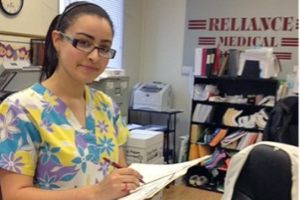 Seven school districts will share $3 million in grants to bolster partnerships between business and county vocational-technical schools, the New Jersey Department of Education (DOE) announced yesterday.
The $3 million is part of the County Vocational School District Partnership Grant Program funded by the state. It supports county vocational-technical school districts that partner with business and industry, comprehensive K-12 school districts, and post-secondary institutions to expand high school students' access and participation in career and technical education (CTE) programs.
"These grant awards demonstrate our commitment to offering multiple career pathways to high school students," said Acting Commissioner of Education Dr. Lamont O. Repollet. "One of our priorities is to increase access to CTE and this grant program provides students with opportunities to obtain an apprenticeship, industry-valued credentials, or dual credit from a post-secondary institution."
The seven school districts are: Bergen County Technical Schools, Camden County Technical Schools, Hudson County Schools of Technology, Hunterdon County Vocational School District, Morris County Vocational School District, Passaic County Technical Institute and Somerset County Vocational & Technical Schools.
NJBIA supports career and technical education programs through its partnership with CareerTechNJ and encourages businesses to lend their expertise to high school districts to help prepare the next generation of workers.
These 21st century CTE programs integrate rigorous academic content and technical skills to prepare all types of students for college and careers, not just for a specific job. Today, more than 32,000 students attend New Jersey's county vocational-technical schools, but the student and parent demand for CTE programs exceeds the space available.
CareerTechNJ, run by the Council of County Vocational and Technical Schools, can provide resources to businesses looking for employees among vo-tech graduates and provide information about businesses that want to contribute to the education of the future workforce.
Go here to learn more.