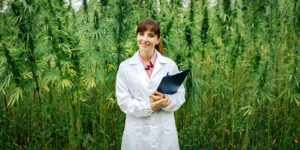 The medical marijuana bill that passed the Senate yesterday is much more than a consolation prize for those who wanted adult use marijuana legalized. The bill would not only expand the uses of medical marijuana, it establishes a framework for an entire industry that could be used in the future if the laws governing recreational marijuana are changed.
As originally conceived, the medical marijuana bill was to be considered alongside separate bills legalizing the drug for recreational use and expunging the criminal records of those previously convicted of certain drug crimes involving marijuana. Those two bills failed to garner enough support to pass in the Legislature, so lawmakers have decided to move forward with expansion of medical marijuana on its own.
From NJBIA's point of view, a key component of the medical marijuana measure is employer protections.
"We fought very hard to allow businesses to be able to maintain drug-free workplaces as they are now able to under current law, and we are grateful the bill sponsors recognize the importance of that goal," said NJBIA Vice President Michael Wallace.
The Senate amended A-10 (Downey, Danielson)/S-10 (Vitale, Scutari) on May 30, so it has to return to the Assembly.  If the Assembly agrees to the Senate amendments, the bill goes to Gov. Phil Murphy to be signed into law. Here is a look at what is in the bill.
General Provisions
Medical marijuana would be regulated, administered and overseen by a Cannabis Regulatory Commission (CRC) with five full-time members, an executive director and professional staff responsible for developing and approving applications for cultivators, manufacturers, wholesalers and dispensaries.
Medical marijuana will be subject to the state sales tax until Jan. 1, 2025, according to the bill. Municipalities that are home to a dispensary or clinic would be allowed to assess a transfer tax of up to 2%.
The bill requires applicants to attest to having a labor peace agreement with a bona fide labor organization, and maintaining that agreement will be an ongoing condition of the permit. The Senate amendments require existing cannabis businesses to obtain labor peace agreements.
Medical marijuana use would no longer be restricted to treatment for "debilitating conditions," but expanded to include any "qualifying medical condition." Medical cannabis may be used as a treatment of first resort for:
seizure disorder, including epilepsy;
intractable skeletal muscular spasticity;
post-traumatic stress disorder;
glaucoma;
positive status for human immunodeficiency virus;
acquired immune deficiency syndrome;
cancer;
amyotrophic lateral sclerosis;
multiple sclerosis; muscular dystrophy;
inflammatory bowel disease, including Crohn's disease;
terminal illness, if the patient has a prognosis of less than 12 months of life;
anxiety;
migraine;
Tourette's syndrome;
dysmenorrhea;
chronic pain;
opioid use disorder; or
any other condition approved by the CRC.
Employer Protections
Nothing in the bill will restrict an employer's ability to prohibit or take adverse employment action for the possession or use of intoxicating substances during work hours or on workplace premises outside of work hours, or require an employer to commit any act that would violate federal law or result in the loss of a federal contract or federal funding.
Employers would be required to treat medical marijuana use like any other prescription drug in the workplace.  The bill prohibits employers from taking any adverse employment action against an employee based on the employee's status as a registry identification cardholder.
If an employer has a drug testing policy, and an employee or job applicant tests positive for cannabis, the employee or job applicant is to be offered an opportunity to present a legitimate medical explanation for the positive test result or request a retest. Unlike alcohol, a positive test for cannabis does not mean the individual is impairedat the time of testing.
Healthcare Providers
The bill would expand the list of professionals who can authorize medical marijuana to include physician assistants and advanced practice nurses, as well as physicians. These healthcare providers would be authorized to initially provide up to 2 ounces of cannabis to a patient in a 30-day period. After 18 months, it would be expanded to a 90-day supply.
The bill also requires patients to register with the CRC, but allows them to receive up to a two-week supply of medical marijuana while their applications are pending.
Industry Permits
Separate permits would be required for any dispensary, manufacturer, cultivator or wholesaler. For the first 18 months of the program, no one entity could hold more than one permit of any type. Afterward, entities could hold cultivator, manufacturer and dispensary permits together, but wholesalers would be prohibited from holding any of the other types.
Seven new permit holders would not be subject to these restrictions and would receive all three types of permits immediately on approval. The restrictions would also not apply to any alternative treatment centers that were either approved or that applied for permits prior to the bill's enactment.
The total number of cultivators will be limited to 23 for the first 18 months, including existing cultivators.
Operational Requirements
Dispensaries would also have to maintain standardized price lists.
They would be allowed to establish consumption areas, subject to CRC and municipal approval.
Each batch of medical cannabis would have to be tested by a laboratory to determine its potency and chemical composition. The laboratory would also screen for contamination. A summary of the lab results would be included in any packaging materials.